Carolyn Woo announced as 2018 commencement speaker
March 28, 2018 (Notre Dame, IN) — Carolyn Woo, the former CEO of Catholic Relief Services, will deliver the Commencement address to the Saint Mary's College Class of 2018.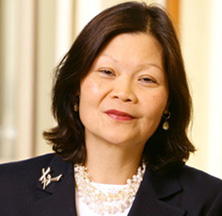 Woo will receive the College's highest honor, an Honorary Doctor of Humanities degree, at the ceremony on Saturday, May 19.
Born and raised in Hong Kong, Woo was educated by the Maryknoll Sisters of Ossining, and immigrated to the United States to attend Purdue University, where she earned a bachelor's degree in economics with highest distinction and honors, a master of science in industrial administration with recognition as Krannert Scholar, and her doctoral degree.
She joined Purdue as assistant professor in 1981, became full professor in 1991, and directed the Professional Master's Programs in the Krannert School of Management from 1993-1995 and also served as associate executive vice president for academic affairs at Purdue University. From 1997-2011, Woo served as Martin J. Gillen Dean of the University of Notre Dame's Mendoza College of Business. She served as CEO of Catholic Relief Services from 2012-2016.
"Carolyn Woo embodies the spirit we strive to instill in our students: she is a woman of action," Saint Mary's President Jan Cervelli said. "Her career is a testament to the power of leadership that serves the greater good."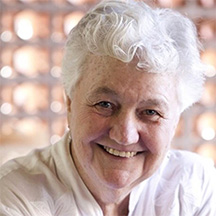 Saint Mary's College also will present an honorary degree to acclaimed peace activist Sister Margaret "Peggy" O'Neill, SC. Beginning in 1986, Sister Peggy served in the Diocese of San Salvador, assisting refugees during El Salvador's civil war. In 2006, she established El Centro Arte Para la Paz, an educational and cultural center that promotes peace through the arts and spiritual reflection in Suchitoto, El Salvador, on the grounds of the historic Santa Imelda School and Convent.
As a theology professor, Sister Peggy taught at Iona College in New Rochelle, New York for 25 years, as well as through Augsburg College's Center for Global Education in El Salvador. She is currently a faculty member of Santa Clara University's Casa de la Solidaridad in El Salvador.
Sister Peggy's numerous honors include the 2008 Peacemaker Award of the Congregation of the Sisters of St. Joseph of Peace and the 2008 Ciudadana Ilustre Award, which recognized her work on behalf of social and cultural development in El Salvador. 
"Sister Peggy O'Neill enriches the lives of those around her with her buoyant spirit and unflagging commitment to service," President Cervelli said. "Her accompaniment of people in need serves as a shining light through darkness."
Other details about commencement can be found here. 
About Saint Mary's College: Founded in 1844 by the Sisters of the Holy Cross, Saint Mary's College is rooted in its mission to prepare women to make a difference in the world. A pioneer in the education of women, Saint Mary's is a four-year, Catholic, residential, liberal arts college in Notre Dame, Ind. The College is an academic community offering bachelor's degrees in more than 30 major areas of study, including business, nursing, education, biology, social work, and English. Saint Mary's also offers co-educational master's degrees in data science, speech language pathology, autism studies, and a Doctorate of Nursing Practice.
Contact for News Media: Haleigh Ehmsen, Assistant Director of Integrated Communications, Saint Mary's College, hehmsen@saintmarys.edu (574) 284-5343