Fulbright Foreign Language Teachers
Wrapping up another successful year with Fulbright
Since 2010, Saint Mary's College has participated in the Fulbright Foreign Language Teaching Assistant (FLTA) program, and students have benefitted from direct cultural exposure. During this time, 15 visiting educators from around the world have lived on campus, acclimated to the northern Indiana climate and have been immersed in American customs for a full academic year, while they taught students a variety of languages and cultural perspectives.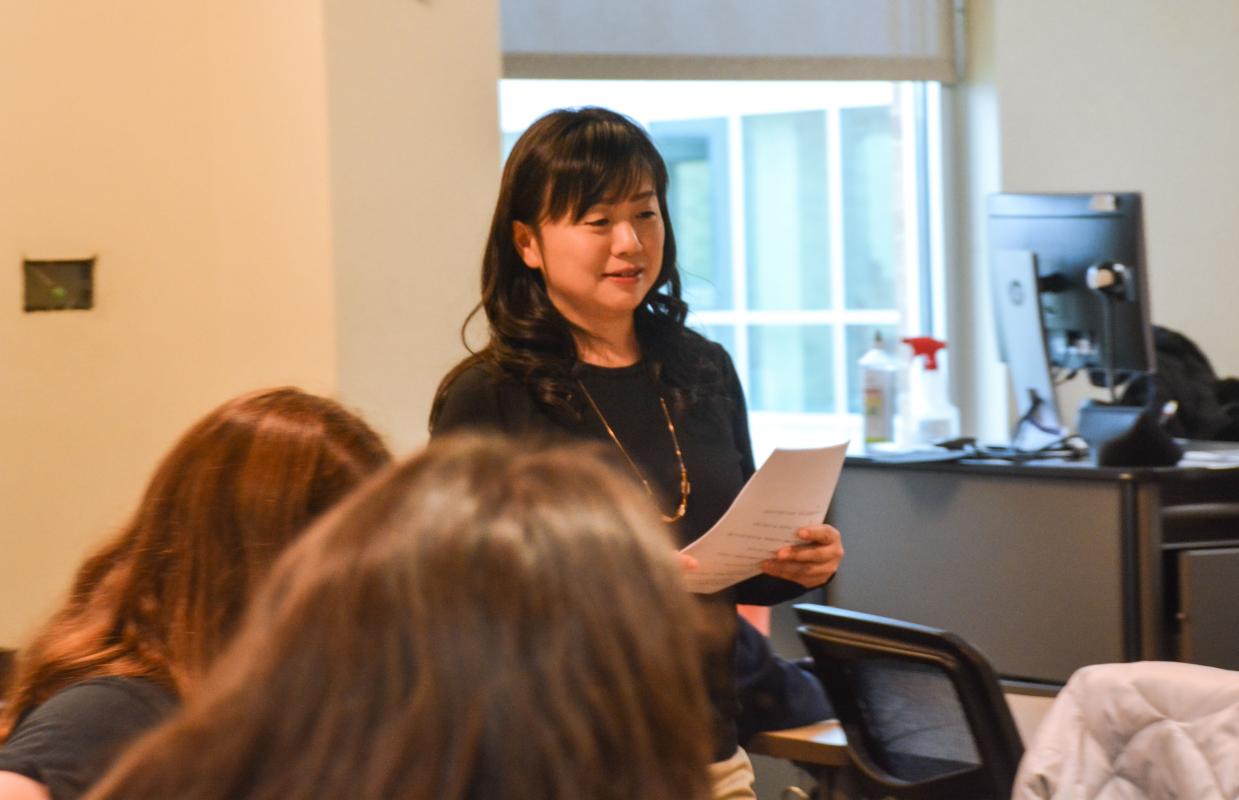 As this academic year comes to a close, the two most recent Fulbright FLTAs are wrapping up their time in the classroom. Chih-Ting Lu is from Taiwan and teaches Intro to Chinese, along with Mandarin Conversation and Reading. Hagar Hodeeb is from Egypt and teaches Arabic. 
Melissa Bialko, professor of theatre and costuming, and director of the European Summer Study Program, is the current primary supervisor, and has worked with the Fulbright organization to apply for and select applicants for the next academic year. Soraya Wirth, professor of modern languages, has been the teaching supervisor for the Arabic FLTA. Alice Yang, director of International Education in the Center for Women's Intercultural Leadership (CWIL), said that over the years, Saint Mary's has had teachers from China, Taiwan, Egypt, Morocco, and Tunisia. 
"The FLTAs increase the diverse international presence on campus and promote mutual understanding among people of different nations through assisting foreign language teaching and cultural extra-curricular events," Yang said. "They help develop our students' knowledge of foreign cultures and languages as a native foreign language speaker with authentic knowledge about their home country. The FLTA program offers opportunities for our students to be globally engaged on the home campus."
To her classroom, Lu brings her experience as a teacher at Grace Christian Academy, an English-speaking school in her native Taiwan, and uses the skills she was taught during her Fulbright training. Each scholar receives 100 hours of specialized instruction before being matched with five colleges in the United States. 
She admits she didn't know what to expect at Saint Mary's, primarily because the climate in South Bend is vastly different from Taiwan's. She was also curious about how a single-gender college would empower women.
"But here, it just happens. It's really beautiful," she said. "This is important when teaching young women because we have created a trust circle in our classroom and the students feel safe."
Hodeeb shared a similar reaction to her experience at Saint Mary's. She now feels she was "chosen" to be here; that she has gained so much from her time here. "After being in a single-sex school for several months, I feel it provides a space for the students in which they can act freely in terms of clothing and speaking—even inside the class."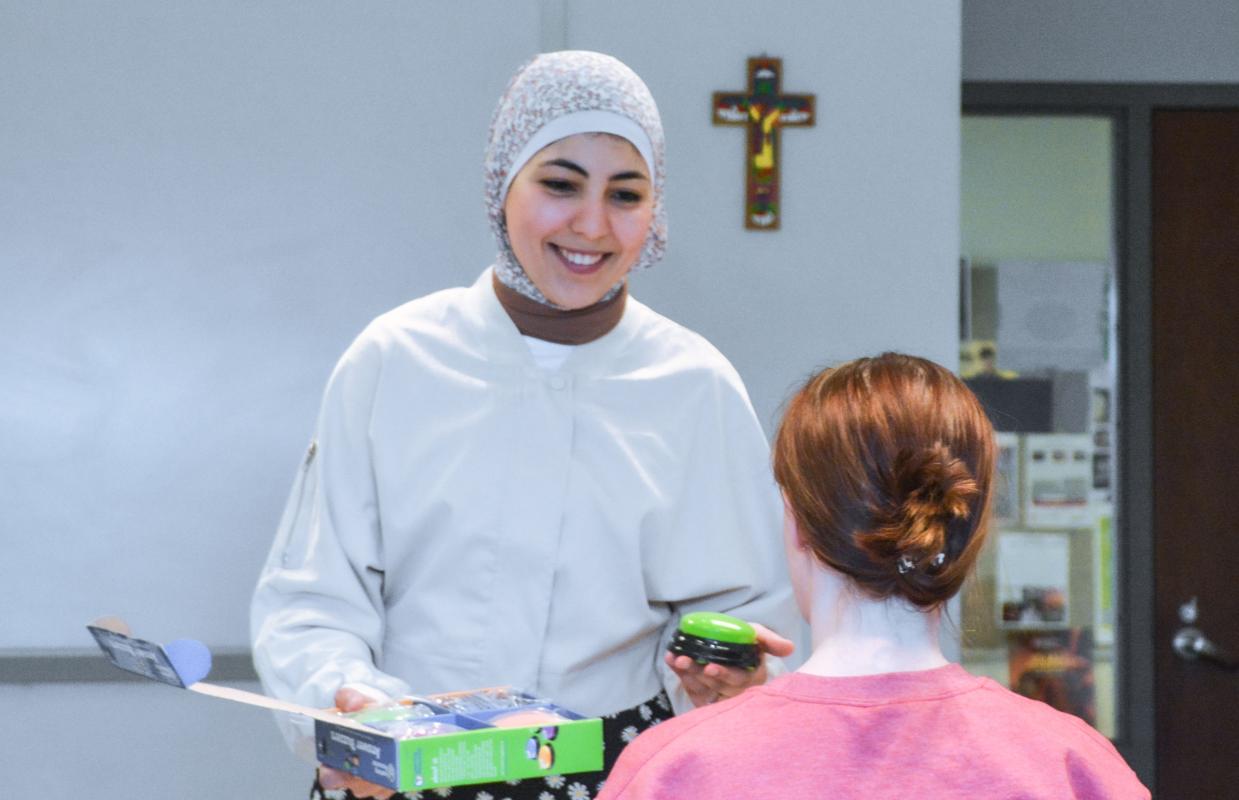 As a Muslim, she said her religious background generated a lot of interest and intrigue when she first arrived in August 2021.  "When I first came, I was literally the only Muslim on campus wearing a scarf, which made everyone wonder about my appearance. Being a Muslim has played a huge role in my experience here," Hodeeb said. "Some link wearing the scarf with being forced, others don't realize Egypt is still a country. I am never annoyed by those (questions) however. I feel it is a responsibility to answer these questions, and I do it with pleasure."
Yang said these questions are precisely the reason it's important to continue with programs like the Fulbright FLTA. 
"Saint Mary's commits to 'diversity, equity, inclusion, and justice education for all constituencies as an essential element of Saint Mary's culture'," Yang said. "The FLTA program is one of the initiatives to enhance students' global and intercultural competence so that they are more culturally sensitive and better equipped to make a difference in the world."
Public Lectures
Each year, the Fulbright Foreign Language Teacher Assistants are invited to give at least one public lecture to the Saint Mary's community. Over the years, Saint Mary's students have taken part in the following lectures:
2022: "Chinese Pictographs" by Chih-Ting Lu (Taiwan)
2021: "Women and Hijab in the Arab World" by Hagar Hodeeb (Egypt)
2019: "'Four Great New Inventions' of China in the 21st Century" - by Ying Wang (China)
2019: "China Today" - by Ye Zhang (China)
2018: "Internationalization of Universities in China and the U.S." - by Wendu Yu (China)
2018: "Egypt and Traces of the Cultural Influx" – by Amal Abu Saif (Egypt)
2017: Movie Introduction - "Wolf Totem" - by Huier Zhao (China)
2016: "Snapshots of My Cultural Experiences in the U.S." - by Yuting He (China)
2015: "Women's Exceptionalism in Tunisia" - by Olfa Slimane (Tunisia)
2014: "East Meets West – Cultural Differences and Stereotypes" – by Zhenman Ye (China)
2013: "Perspectives on Recent Events in Egypt" – by Alaa Abu Elella (Egypt)
2013: "'The Elegant State', Lanzhou" - by Yan song (China)
2012: "Fulbright Experience and Application at Home and Abroad" - Pei Zheng (China)