Gabrielle Beach Reaches For the Stars

By the time Gabrielle Beach '20  left home at the age of 15 to train at The Royal Ballet School in London, she had already performed at the Lincoln Center in New York City and in Beijing, China. After graduation, her dreams were realized as she became a professional dancer with Boston Ballet.
But her knees paid the price for years of strain, and her hopes of a long career as a professional ballet dancer ended just six months into her professional career. A trip to visit her sister, who was away at college, provided a new path in life.
"In my last few months of professional dancing, I visited my older sister at Saint Mary's (Hannah Beach '18) for a weekend. I experienced the warmth of Saint Mary's sisters through her roommates and was entranced by the charm of campus. The days were filled with welcoming, passionate, and intelligent women who supported and cared for each other."
Gabi saw first-hand how professors genuinely wanted to know their students and how there were abundant opportunities to deepen her faith on campus. Gabi recalls, "I could picture myself at Saint Mary's and was excited by the prospect. When my decision came, I could not think of a better place to start my new chapter."
From Dancing to the Great Unknown
In 2011, Gabi had witnessed the final space shuttle launch and became drawn to space and science — an unconventional interest as she pursued the stage. In her spare time, she began reading biographies of NASA astronauts, paying close attention to their educational backgrounds. It was this inspiration that got her started back in school but not without some hurdles to leap over. After all, the last time she had sat in an actual classroom was the 9th grade and taking notes was a long-dormant skill. Fidgeting and distracted, she persevered on her new course towards physics and engineering in the dual-degree program in cooperation with Notre Dame.
---
"When I consulted with the physics professors at Saint Mary's,
they didn't turn me away because of my lack of background in physics.
They believed in me even though I had nothing but determination to share with them."
---
Knowing she wasn't alone in this journey, Gabi leaned on faculty for support and encouragement. "When I consulted with the physics professors at Saint Mary's, they didn't turn me away because of my lack of background in physics. They believed in me even though I had nothing but determination to share with them" she recalls.
Dance was a continued part of her college life and she found creative freedom through her involvement choreographing and performing with the Notre Dame Dance Company. But she also found that the skills necessary for ballet overlapped with the skills needed to succeed in academics. "My time management, work ethic, and resilience from my past ballet career now carry me through engineering and physics challenges."
The Sky is Not the Limit
Since enrolling Gabi has interned with General Electric Aviation, and in 2019 she took part in the Solar Physics Research Experience for Undergraduates at the Harvard-Smithsonian Center for Astrophysics. At Harvard, she got the chance to work with lead engineers on the optical alignment of space-bound instruments and also the Heliophysics team at NASA's Marshall Space Flight Center. Gabi had the opportunity to present her summer research at the 235th American Astronomical Society Meeting in Honolulu and the 2020 APS Conference for Undergraduate Women in Physics (CUWiP). 
"Saint Mary's faculty and fellow Belles helped me develop the confidence that I could achieve my wildest dreams if only I go for them," she said. "All I have accomplished academically could not have been done without the support of the engineering program and physics department. These professors made many sacrifices for me that were unprecedented."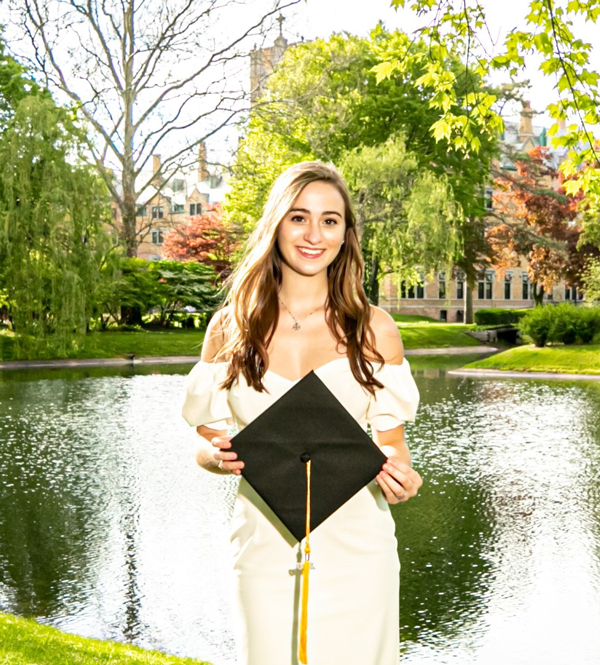 Gabi's list of assistance from faculty is long and filled with gratitude. Allowing for crazy class schedules, having their offices open if she needed to vent, toiling with her for hours on problems from other courses, and writing personalized recommendation letters with a few days' notice are examples of their dedication to her journey. "They opened the world of physics to me and taught me interesting concepts I had never imagined or dared to understand."
Now as an alumna of Saint Mary's and Brooke Owens Fellow*, Gabi is off to Arlington, VA and working at Ball Aerospace as a strategic operations intern. In the fall, she'll return to South Bend to finish her fifth year in the dual degree in engineering program and receive her second degree in mechanical engineering from Notre Dame. She is excited to promote the Saint Mary's College name and says she will be sure to tell everyone she meets in the aerospace industry just how amazing our College is.
 "As I navigate my professional and academic future, I will never forget how Saint Mary's set me on this path and gave me all the tools needed to thrive in the space industry."
*The Brooke Owens Fellowship selects 40 women and gender minorities pursuing careers in aerospace each year for summer internships at the top aerospace companies in the US. Fellows attend a summit where other fellows and mentors gather and are given two aerospace industry leaders for ongoing career advice.
Photo credits: Lindsay Thomas and Tim Reilly