How Interprofessional Education Transforms Learning Experiences
By Melinda McNamara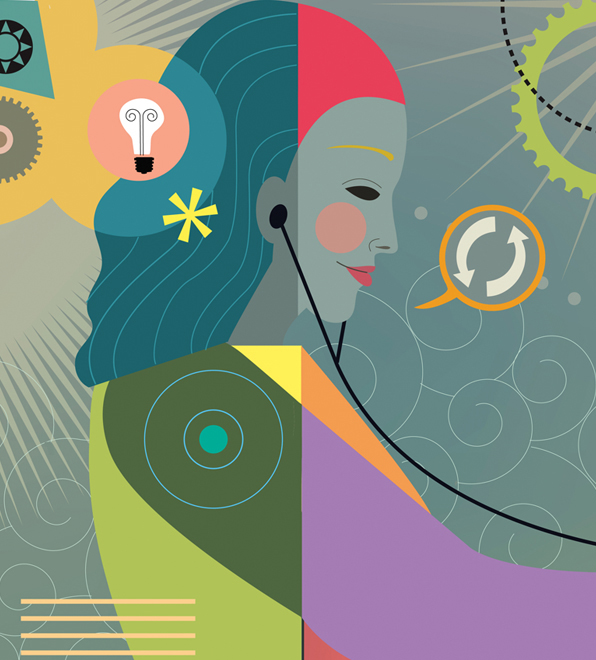 How do you educate students today to lead in tomorrow's healthcare space? Lean into a team-based learning approach with multiple disciplines working together to develop problem-solving skills for real-world issues.
That's the vision for the new Center for Integrated Healthcare Education (CIHE) at the College. The initiative builds on the College's strength in health and behavioral science disciplines and takes education to the next level in a collaborative model.
"Healthcare organizations increasingly seek employees with interprofessional expertise rather than domain-specific skills alone," said Dana Strait, PhD, vice president for strategy and finance.
The CIHE plan will bring the College's five healthcare-related programs under one roof—including nursing science, speech language pathology, social work, gerontology, and autism studies. The strategy opens opportunities to increase student enrollment in high-demand programs. It also aims to reduce education costs per student through resource sharing across the disciplines.
The first step in the three-stage initiative is already underway, thanks to a $1 million grant from Lilly Endowment and significant College investment. Renovation began in 2020 to transform Regina Hall into a state-of-the-art, interprofessional healthcare training center.
By August 2021, the nursing science program will occupy the first floor and lower level of Regina Hall. That move opens opportunities to expand undergraduate nursing enrollment by more than 30 percent. It also kickstarts economies of scale that will extend through all the healthcare disciplines.
"Nursing is one of the top three programs at Saint Mary's that interests students," said Mona Bowe, vice president for enrollment management. "Now we can increase capacity for each class and help meet workforce demand for stronger nurses who have a better understanding of how to care for the patient." The expanded footprint of the nursing program includes a central lecture hall that increases capacity by 300 percent. That means a professor can teach up to 100 students in upper-division, required classes that have had limited capacity until now.
Two new simulation laboratories expand capacity for clinical training by 150 percent. Each lab has room for up to 20 students to receive hands-on learning with a simulation mannequin.
Integrated education forms a cornerstone of the three-stage plan for the center. It sets up an alignment of the five health sciences and behavioral health programs in one location at the CIHE. The learning model encourages development of team-based leadership skills needed in today's healthcare environment.
"Healthcare is no longer siloed. It's a holistic approach to patient needs," Bowe said. "Employers are looking for healthcare professionals who understand how to communicate with patients with diverse needs."
Stage II also expands technology, access to hands-on clinical training and resource sharing capabilities.
"Nursing does not work in a vacuum. It is part of a team," said Sue Anderson, PhD, director of nursing science. "We want students to think about problems and solutions as a team with the patient at the center."
The result: graduates ready to deliver the next level of high quality patient care. In reality, it also leads to lower cost of delivery for healthcare services and improves the patient experience.
"We are building for the future," Strait said, "with more well-rounded, mature practitioners."
A Virtual Fly-through of the CIHE