Improving the World Through Writing
Award-winning author Jacqueline Woodson doesn't have time to engage in activities that don't change her in a positive way. She calls the practice "unsilencing" herself.
"I want to learn and question and be critical of the world, and somehow through my work, be heard to make things better," she said in an interview before her September 28 visit to Saint Mary's as the 2021 Christian Culture Lecture speaker.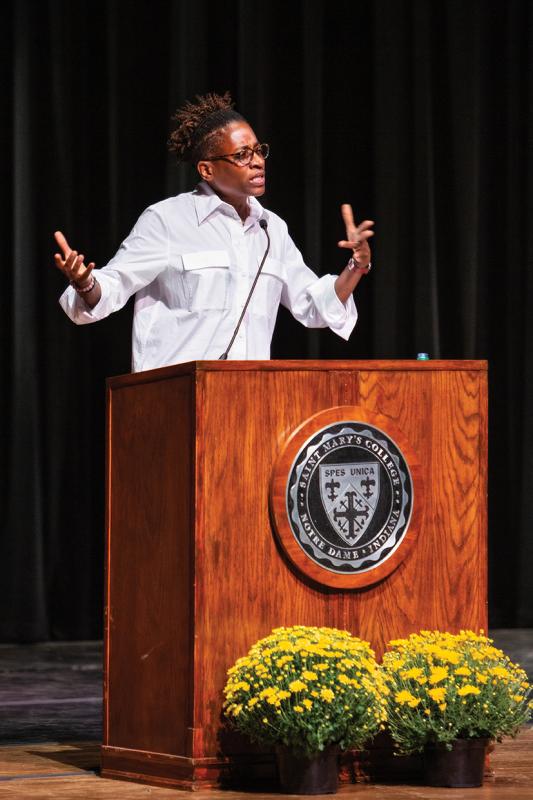 While President Katie Conboy's Inauguration marks advancements to the College relating to justice and inclusivity for all students, Woodson said the same social shifts across the nation are energizing her as a writer.
"The change we're experiencing now isn't new, we're just finally realizing where more change needs to happen," she said. Not surprisingly, she said, there is a backdrop of resistance to these changes, which fuels Woodson's determination and her art. "I'm hoping that I can somehow help people get through this time safely."
Paying attention to the social changes is important to her because she believes all artists are activists. "People make art because they're critical of the world; they have questions about it; they want to understand it," she said. "A poor kid from Appalachia who writes a book is an activist, because when people put down their art, it does change the world. And that's what activism means."
She began her day at Saint Mary's with a circle of students, sharing inspiration and writing methods during a workshop designed for women authors and attended by students from surrounding areas.
High school students are longing for a personal connection to arts and humanities, said Laura Williamson Ambrose, associate professor and chair of the Department of Humanistic Studies.
"Reaching out to them helps them feel seen, and attending the author workshop makes them visible." The lectures have strengthened partnerships between the College and the surrounding communities to benefit both. Author lectures without the greater community are "academic exercises, rather than engaging celebrations," she said.
During the evening talk, Woodson spoke to about 400 people in O'Laughlin Auditorium. She said she was "thrilled to be at Saint Mary's at this important time in the College's history" with Inauguration, and especially as her first public speaking engagement in person since the start of the pandemic.
Woodson's voice captivated the audience as she read from Show Way, a rhythmic narrative that follows her female slave ancestors and their descendants who experienced early freedom, right up to her mother, who lived through the civil rights movement.
Sitting down with President Katie Conboy after her reading, Woodson shared her ideas about college graduates seeking jobs that bring them joy, encouraging young writers, and Jesus' commandment to love one another.
She was taught to be "in the world but not of the world" as a Jehovah's Witness, which is how she thinks of her characters. Woodson was also influenced by her uncle's practice as a Muslim. "He came home from being incarcerated as a Muslim so we had the Bible and the Quran in our house from then on," she said. Although no longer a practicing Witness, exposure to both religions showed her how spirituality and art intersect.
"Writing is meditative to me; spirituality gives me hope. So when I write, I light a candle, think about my ancestors and ask for guidance from those who came before me," she said. "I'm trying to create something that is better than what is already here. Writing and prayer are very much the same to me."
Woodson's body of work includes a long list of published titles and top-tier accolades. She received the National Book Award for Brown Girl Dreaming, is a four-time Newbery Honor winner, and a two-time Coretta Scott King Award winner. She was named the 2015 Young People's Poet Laureate by the Poetry Foundation, the 2018 Ambassador for Young People's Literature by the Library of Congress, and was selected for the 2020 MacArthur Genius fellowship. She was also the 2020 recipient of the Hans Christian Andersen Award, the highest international recognition given to an author and illustrator of children's books.
After all of her success, her intention is the same: Tell stories that make people think and feel because that's what drew her to being a writer. After reading The Little Matchstick Girl by Hans Christian Andersen, she realized the power of words.
"My 8-year-old self cried and was angry that she died of poverty," she said. "I felt the deep unfairness in the world and because those words made me feel so much, I wanted to tell the story and change the narrative and the ending; tell the story with hope."