A Legacy of Leadership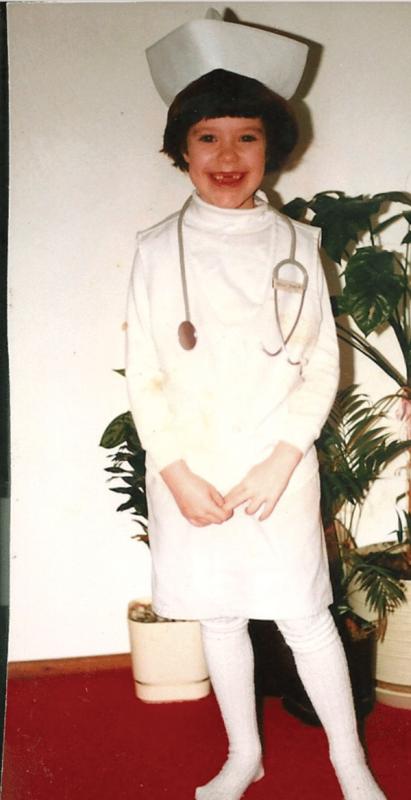 Emily Spore Chase '04, Ph.D., RN always knew what she wanted to be when she grew up—and how to get there. In second grade, she dressed up for career day in her grandmother's nursing uniform. In fourth grade, she wrote to the Saint Mary's admission team describing the College as the only place for her. And in May 2004, she made her dreams a reality when she graduated from Saint Mary's College at the top of her nursing class.
While Emily knew what she wanted at a young age, and understood that Saint Mary's was part of her plan, her mother Mary Beth Roitz Spore '79, Ph.D., saw Saint Mary's campus for the first time when she arrived for college in August 1975. While she was lonely and found the transition challenging, Mary Beth soon embraced her new home, making life-long friends and realized Saint Mary's was the best decision she's never made. It was years later when Mary Beth and her husband, Joseph, drove through Saint Mary's on vacation from Pennsylvania and young Emily, in fourth grade at the time, listened to her mother's stories detailing the independence and confidence she gained from her time on campus. It was then that Emily made up her mind to make Saint Mary's her college home.
Emily's family legacy is a representation of Saint Mary's alumnae: strong, resilient, and empowered. And while there are many tales of multi-generational Saint Mary's women doing good in the world, the Spore family gives us a glimpse into one of them. "It wasn't so much that I wanted to follow my mom's exact footsteps, but that I saw how confident she was in a room full of men. She was a leader in her field, and that's what I was drawn to," said Emily.
Mary Beth graduated with a bachelor's degree in English and then went on to earn her doctorate in English literature, and began a 35-year career in academia. She was a professor and later a dean, noting that it wasn't always easy to be the only female in a male-dominated field. "At Saint Mary's, you see women presidents, women in positions of authority and responsibility. So I was equipped (by watching their pioneering examples) to respond effectively when I entered the real world and was getting pushback from male colleagues."
While Mary Beth leads in the world of higher education, Emily directed her skills toward the healthcare field, just as she'd always wanted. Graduating with a nursing degree from Saint Mary's, she continued her education at the University of Illinois Chicago, earning her doctorate degree in 2012. Currently, Emily is the chief nursing officer and senior vice president of Patient Care Services at The University of Chicago Medicine in Chicago. (Since publication, Emily has been promoted at the medical center and now serves as the President and CEO of Ingalls Memorial Hospital at UChicago Medicine. In this role, Emily leads the efforts of UChicago Medicine's community health and hospital division, advancing healthcare in the southside of Chicago.) Three thousand five hundred nurses report to her as one of the senior leaders at the medical center. Breaking down barriers, Emily is the only nurse, one of four women, and one of two LGBTQ+ members on the leadership team—a true role model for her own daughter, Meghan Chase, a current Saint Mary's student, Class of 2025.
Just as her mom watched her grandmother excel, Meghan has grown up with a bird's eye view of Emily doing the same. Having just finished her first year at Saint Mary's, Meghan said being able to watch Emily at the hospitals and having the experiences of visiting the NICU with her has inspired her to become a nurse herself. "I never felt forced to be a nurse; I want to be a nurse. And I think it's important in our family to carry that on," Meghan said.
One academic advantage Meghan has over her mother is the College's new Center for Integrated Healthcare Education (CIHE). Because Emily identifies herself as a "nurse first and an administrator second," her excitement about the CIHE expansion of the nursing program in Regina Hall is obvious. "This really puts the Saint Mary's program on the map," she said. "There's evidence out there that simulation is best practice, and for students to be able to have this facility, we are going to see the best nurses coming out of Saint Mary's."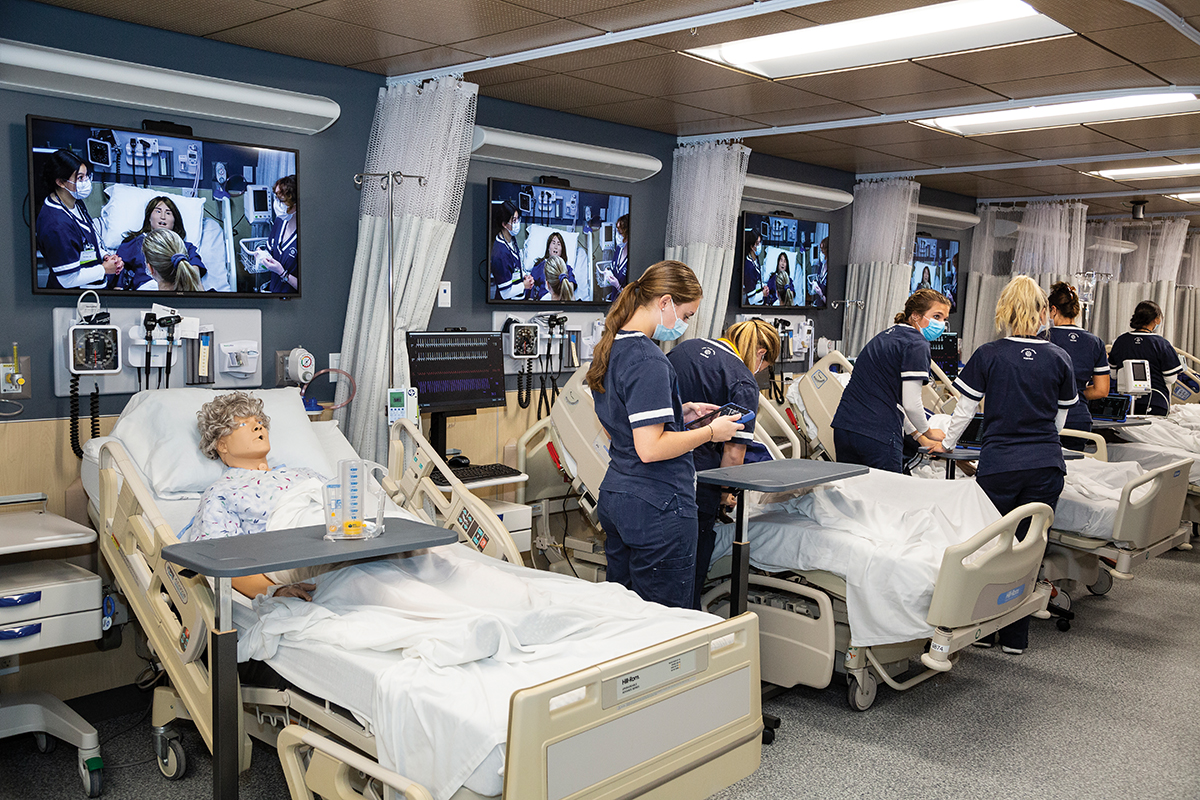 With a $1 million grant from Lilly Endowment in 2020, the CIHE opened phase one of the three-phase project in the fall of 2021. The first floor and lower level of Regina Hall have been transformed and now contain an impressive 80-seat lecture hall, five simulation labs, three acute care rooms, birthing room, pediatric room, brand new high-tech medical mannequins, and more. At a time where nurses are so needed in the workforce, Saint Mary's is able to expand its nursing enrollment by more than 30% because of the center's expansion.
Throughout the next two phases, all health science and behavioral programs will be housed in Regina Hall, creating a space to mirror a real-life medical center.
The nursing sciences program has a substantial reputation for being the best of the best, with many accolades to show for it. Recently, Saint Mary's was named one of the top four nursing schools in Indiana—and the top ranked private nursing school in the state according to Nursing Schools Almanac. In 2021, U.S. News and World Report ranked it in the top 26% of private and public undergraduate nursing programs in the nation.
As a leader herself in the nursing world, Emily has seen the best of the best when it comes to healthcare facilities. When walking through the CIHE, she couldn't help but compare the Center to where she works on a daily basis. "We do simulations at my work for nurses and physicians, and it's critically important," she said. "I've always thought Saint Mary's has the best nursing program in the country—I go out and say it all the time—but the ability to have this kind of facility sets it even more apart." Additionally, as a response to the nursing shortage in the country, Saint Mary's is offering a direct-entry Master of Science in Nursing (MSN), making the College the first in the state to offer this degree in a direct-entry format. Beginning in fall 2022, the MSN program is designed to be completed in two full years. Upon passing their licensure exams, graduates of the program will begin their careers with an RN-MSN.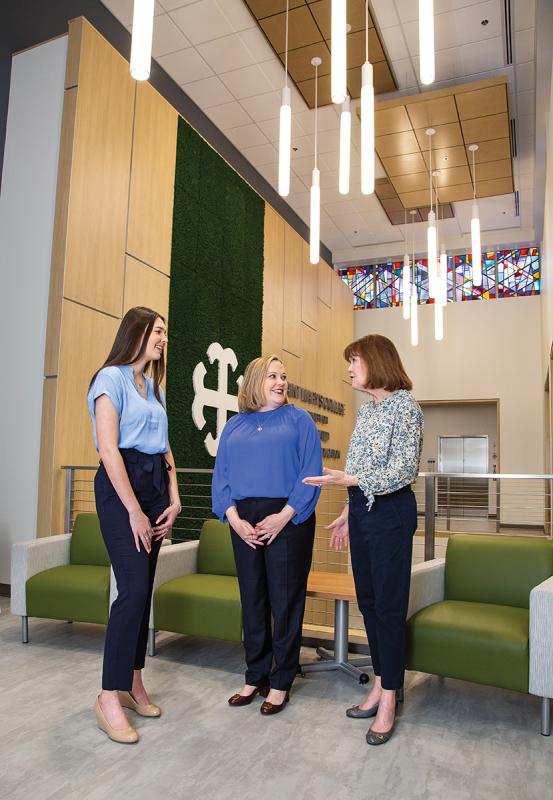 While Emily and Meghan swapped stories about their shared experiences as nursing students at Saint Mary's, Emily emphasized the importance of giving back in order for the next generation to have facilities similar to the CIHE. "We need institutions like Saint Mary's that can educate women and build independent thinkers and leaders of the future," said Emily.
Emily's Saint Mary's legacy doesn't just begin with her mother and end with her daughter, being a Belle—and a leader—extends through the family tree. Emily's younger sister and Meghan's aunt, Bridget Spore Faulk '08, was a music major at Saint Mary's and founded the a capella group, Bellacappella. "While we all did very different things, it's still that essence of being a leader and being confident in your own field," said Emily.
Emily wants future generations to have the education and the experience that she had, that her sister had, and that her mom had, which is why she is motivated to support Saint Mary's through dedicated gifts to the nursing program and the Saint Mary's Fund. "It's for the current generation, which is Meg, and the future generations like my niece Sally. She is only 4 but we are already considering her a future Belle," she said. "We need institutions like Saint Mary's that educate women, build independent thinkers, leaders of the future, and strong voices at every table." †