McMahon Aquinas Chair in Philosophy hosts annual lecture
September 14, 2017 (Notre Dame, Ind.) — Saint Mary's College is pleased to announce that David O'Connor, associate professor of philosophy at the University of Notre Dame, will offer this year's McMahon Aquinas Lecture. O'Connor's talk titled "Love More Than You Know: The Tao of Thomas Aquinas" will be on Thursday, October 5 at 7 p.m. in Rice Commons, Student Center. The event is free, and members of the public and campus communities are encouraged to attend.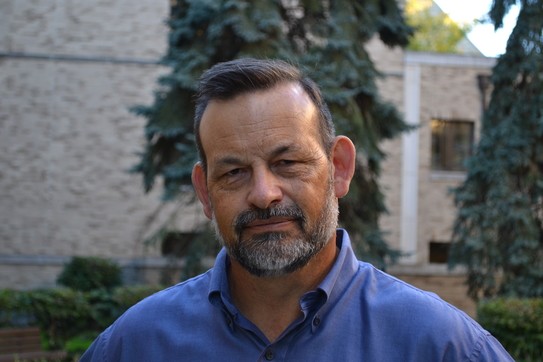 O'Connor's main teaching and research interests are in ancient philosophy, ethics, political philosophy, and philosophy and literature.
Professor Michael Waddell, the Edna and George McMahon Aquinas Chair in Philosophy and host of the lecture, said O'Connor is reminiscent of a 21st century Socrates.
"His gifts in the classroom have made him beloved among generations of Notre Dame undergraduates; his charm, generosity and insight as a conversation partner have made him a cherished mentor to graduate students; and his paradigm shifting scholarship has made him widely respected among professional colleagues," Waddell said. "We feel very fortunate to be able to have him deliver this year's McMahon Aquinas Lecture."
Click for more information about this and past McMahon Aquinas Lectures.
This lecture is presented by the Edna and George McMahon Aquinas Chair in Philosophy, who sponsors an annual lecture on a topic related to the thought of Thomas Aquinas.
About Saint Mary's College: Founded in 1844 by the Sisters of the Holy Cross, Saint Mary's College is rooted in its mission to prepare women to make a difference in the world. A pioneer in the education of women, Saint Mary's is a four-year, Catholic, residential, liberal arts college in Notre Dame, Ind. The College is an academic community offering bachelor's degrees in more than 30 major areas of study, including business, nursing, education, biology, social work, and English. Saint Mary's also offers co-educational master's degrees in data science, speech language pathology, autism studies, and a Doctorate of Nursing Practice.
Contact for News Media: Haleigh Ehmsen, Media Relations Associate, Saint Mary's College, hehmsen@saintmarys.edu (574) 284-5343