A Roadmap for the Next Decade
By Lisa Knox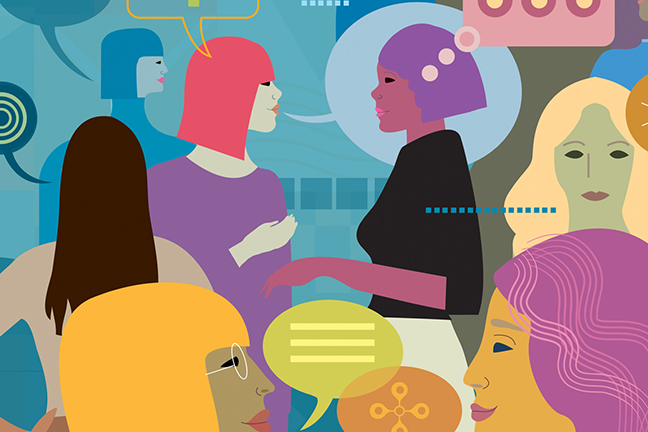 In this period of changing US demographics and global connection, Saint Mary's must renew its commitment to meeting the needs of the times—expanding the boundaries of who we are and imagining in fresh ways who we can be. By doing so, we will sustain and expand our mission, thus becoming more accessible, attractive, and hospitable to rapidly diversifying undergraduate and adult student populations.  —Revere and Revise: Saint Mary's College 2030
In December, President Katie Conboy unveiled Revere and Revise: Saint Mary's College 2030, a strategic plan, approved by the College's Board of Trustees, to guide Saint Mary's over the next decade. Revere and Revise provides an ambitious framework for the College to meet the needs of an evolving student population. Many will be the first in their families to attend college. More will depend upon substantial financial aid. It is possible, Conboy wrote, to understand the aspirations of these new audiences and "respond differently than peer institutions. Our core values, combined with our historical identity, are at the heart of how we will differentiate our approach."
Conboy has assured the community that this strategic plan is no theoretical exercise. Revere and Revise is meant to be a true roadmap—a strategy that is both boldly futuristic and disarmingly feasible. It includes four principal commitments and 24 tactical recommendations that bring the commitments to life, as well as an implementation timeline.
Though she is a prolific writer, Conboy admits even she was humbled by how quickly the plan came together. "Of course, I also could not have foreseen almost anything about the circumstances of 2020," she wrote in a letter to the College community.
Much of the credit for the accelerated planning effort, she says, is due to the planning work that happened under the leadership of previous presidents, including the published strategic priorities developed by Interim President Nancy Nekvasil. Many ideas from the College community were already captured and available, Conboy says. So, within a four-month span, she tested those ideas, asking the community what they revere about Saint Mary's, and what should be revised. Two surveys yielded close to 1,000 responses. She held more than 40 meetings with faculty, staff, students, alumnae, Sisters of the Holy Cross, donors. It was a breakneck endeavor that included masked walks on campus, Zoom meetings at dawn, evening conversations, numerous phone calls, and email exchanges. 
The result of these sessions, however, is a strategic plan with both short-term and long-term goals that will make Saint Mary's a more robust institution. Multiple committees made up of faculty and staff will provide oversight, implementation guidance, and regular review of the plan to monitor its progress.
In this issue of Courier, two stories describe how Revere and Revise is already coming to life. How Interprofessional Education Will Change Healthcare illustrates how Saint Mary's is preparing our health sciences students for today's careers in healthcare—at both the graduate and undergraduate levels. Improving a Sense of Belonging chronicles how the first of the plan's commitments is already impacting students through the creation of the Office for Student Equity.
"It is hard to imagine a more complex and challenging time to be accomplishing our mission at Saint Mary's, but I am surrounded by a team that rises to the challenge every day," Conboy wrote last October in the midst of the planning. "Every day, I count my blessings, and high among them is that I am here—in the right place, trying to do the right things."