Tysus Jackson '99 Talks About Conscious Giving
Alumna returns to campus to challenge giving community
Are you consciously giving? Tysus Jackson '99 challenges you to ask yourself this important question. 
Jackson returned to Saint Mary's on March 30 for her presentation "Being a Conscious Giver: How a Degree in Social Science Shaped My Career in Philanthropy."
After graduating from Saint Mary's with a double major in sociology and political science and minors in women's studies and African studies, Jackson went on to earn a master of public administration from Indiana University. It was there that she found her passion for fundraising. While she's explored several career paths along the way, including one in higher education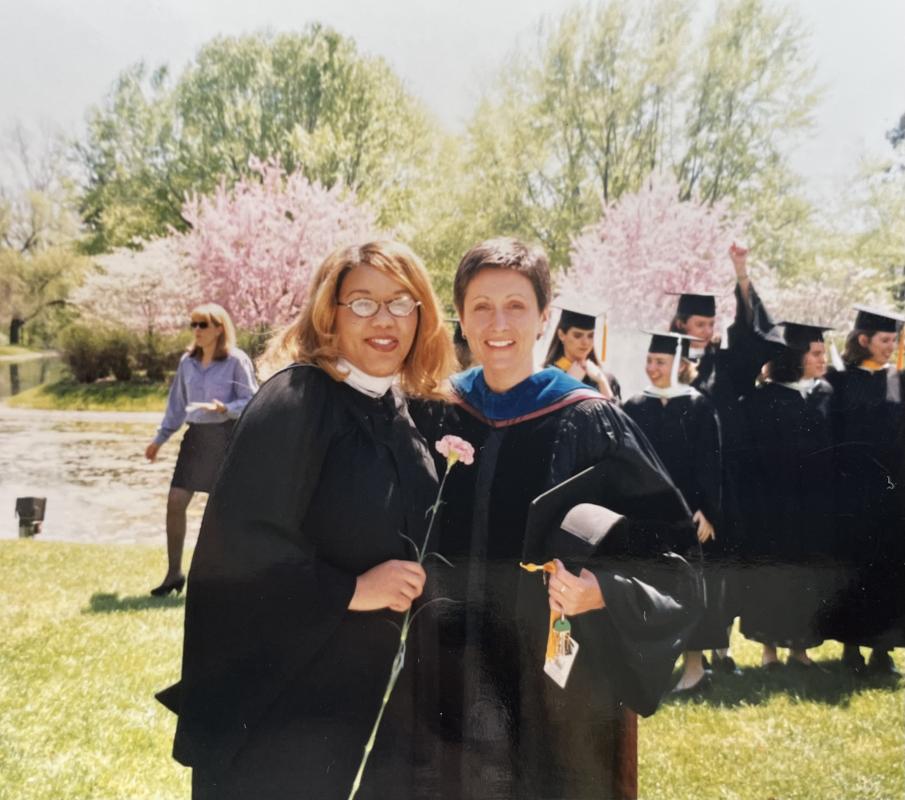 administration, her passion is for developing a culture of intentional giving on behalf of organizations doing meaningful work. She currently serves as the program director of individual giving at the National Museum of African American History and Culture at the Smithsonian Institution.
When asked about her day-to-day work at the museum, she answered with a smile. "I look out my window at the National Monument, and think, 'How lucky am I?'" Besides having a great view, Jackson also leads the museum's annual $10 million individual giving program. 
Jackson served as vice president of her class for two years at Saint Mary's. During that time, she co-led her class in its fundraising efforts to become the group that raised the most money in Saint Mary's history. She also advocated for African American stories to be heard on campus. When Jackson was a senior, she invited Myra Selby to speak on campus, the first African American—and the first woman—to be appointed to the Indiana Supreme Court.
"I'll never forget the relationships I built with faculty," said Jackson of her time at Saint Mary's. She remembers her professors going out of their way to make sure she had the best educational experience—Mark Belanger included discussion of some areas of interest from African studies, and George Trey invited her to take African and African American philosophy courses.
And Jackson's impact as a student  was felt equally by Saint Mary's sociology and criminology professor and director of the division of applied social sciences Professor Susan Alexander recalls Jackson speaking out in her Social Problems course early in her teaching career. Alexander was referencing the book Savage Inequalities by Jonathon Kozol when Jackson approached her and explained how the book was reinforcing stereotypes about Black women. "She made me a better, more conscious teacher," said Alexander. "And now, Tysus has built a career using her voice for greater diversity, equity, and inclusion."
Jackson had also been determined to raise consciousness at the College regarding diversity. As a student, she joined a collaborative team of faculty, staff, and students looking to implement a new interdisciplinary minor focusing on multiculturalism, which is now the intercultural studies minor. Funded by what has grown to become the Division for Inclusion and Equity, Jackson and the team traveled to the National Conference on Race and Ethnicity in American Higher Education in 1997.
Jackson shared that her approach to her work began with Professor Alexander's stratification course on gender, class, and race. "It helped me shape how I see the world," said Jackson. "I am constantly looking at these different pieces of people, how that makes them a whole person, and how society influences that."
Fundraising at the Smithsonian isn't her only job. She also established her own consulting company, Conscious Giving, in 2015. She uses her passion for fundraising to coach clients on nonprofit administration, fund development, communication strategies, and engagement activities to achieve their desired results.
Conscious giving, Jackson explains, is simply giving with intent for impact. "I want people to give, regardless of the amount, their time, talent, treasure, and give in ways that are really intentional, and make a greater impact on the world," she said. "Collectively, we can make a difference."
Jackson challenges everyone to think about what's important to them and their time. She stresses the importance of volunteering and of finding organizations that align with your own personal mission. 
Jackson has always loved learning, which is why she isn't finished. She is starting her doctoral program in philanthropic leadership at Indiana University's Lilly School of Philanthropy this month the first of its kind, where she is looking to expand her leadership tools.
April 14, 2023