Wake Up and Smell the Coffee Beans
Many college students develop a love for coffee during early morning classes and late nights at the library. French and Philosophy double major Hope Celmer '18 turned her love for coffee and coffeehouses into something so much more. She opened her own café, The French Press, in Plymouth, Indiana.
Hope and her husband, Corey, have worked in restaurants and knew they wanted to open their own one day. When the space for a new café in Plymouth presented itself, they decided to go all-in and pursue their dreams of being restaurant owners. "It was as terrifying as it was exciting," Hope says.  
As a double major student, coffee shop owner, and wife, Hope has become very good at time management. Prior to opening The French Press, she had worked full-time while balancing school, so making and sticking to a schedule is nothing new to her. Corey manages the café while Hope is able to arrange her work around her class schedule each semester, that way they each find time to devote to The French Press.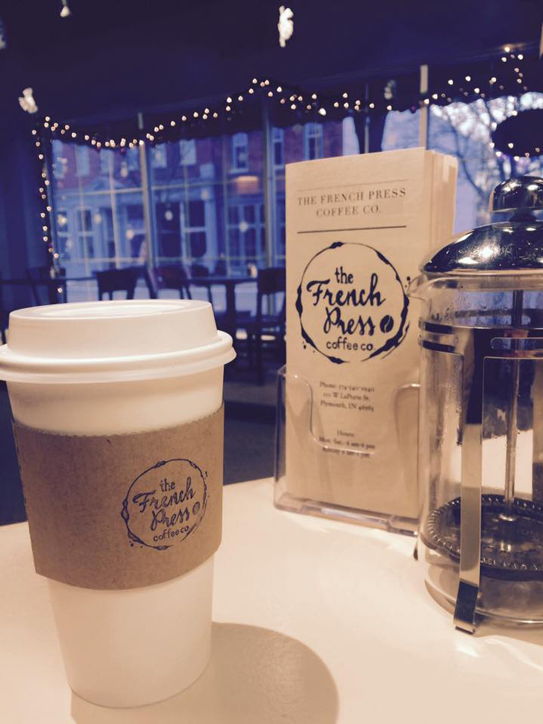 Upon transferring to Saint Mary's, Hope left the job she had and started working at a restaurant in Mishawaka. This gave her the opportunity to expand her knowledge about the restaurant business, which gave her more confidence when opening her coffee shop. Hope embraced what she learned from her French and philosophy classes at Saint Mary's to create an authentic French café feeling, complete with music and decorations. Embracing those classes meant she has spent enough time in coffeehouses and knows what makes a coffeehouse or café great. Corey went to school for entrepreneurship, so starting a French-themed business was not foreign to either of them. After doing research on everything from how to put together a business plan to what kind of espresso is best, they were ready to open.
Hope and Corey are still figuring out what their next move will be after she graduates. She is applying to graduate programs so right now they are going with the flow to see what happens next.
The French Press is more than just coffee and French decorations though; they serve freshly baked bread, desserts, soup, and salad. Waking up and smelling the coffee beans has gone from a normal everyday activity to the coffeehouse of their dreams.