About CAT
About the College Academy of Tutoring Program (CAT)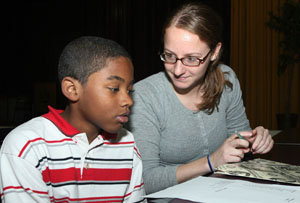 The College Academy of Tutoring Program (CAT) was formed in 2006 to meet the needs of at-risk students in the South Bend area. The program provides Saint Mary's students to partner Title 1 elementary schools in the roles of tutors, teacher's assistants, reading partners, and special program coordinators. It also provides the partner school with physical resources (school supplies, clothing, software, and more) as well as training and cultural events for parents, staff, and community members.
The CAT program has four specific goals:
Provide tutors to area students living in poverty.
Provide teacher's assistants in classrooms in Title 1 schools.
Provide a wide-variety of resources to partner schools to encourage student success, parental engagement, and community development.
Increase students' interest in and love of learning.
Foundations of the CAT Program
The CAT program is built on a foundation combining three sources of direction and strength. The first are the words of Father Basil Moreau, founder of the Order of Holy Cross. In his work Christian Education, Moreau wrote, "These teachers know that all students are equally important to God...if at times you show preference to any young people they should be the poor, those who have no one else to show them preference, those who have the least knowledge, those who lack skills and talent, and those who are not Catholic or Christian." We take direction from Moreau in considering the question of who is our priority.
The second source of our foundation comes from Catholic Social Teaching, which asserts that, "Solidarity is also an authentic moral virtue, not a 'feeling of vague compassion or shallow distress at the misfortunes of so many people, both near and far.' On the contrary, it is a firm and persevering determination to commit oneself to the common good. That is to say to the good of all and of each individual, because we are all really responsible for all." It is this teaching we use to demonstrate how we stand with and support those in need.
The third is the international aspect of the mission of the Sisters of the Holy Cross. Because of the Sisters' work with the poor in Mexico and South America, we are committed to reaching out to those same populations here in South Bend (primarily the Mexican population and children enrolled in ENL classrooms). In this way we hope that our work can, in some small way, parallel the Sisters' work.