Paradiso is a Business All Her Own
By Gina Twardosz '20
Giavanna Paradiso '21 seems tasked with the impossible: balancing school work, extracurriculars, and managing her own business, yet, she does it all with grace. With the help of her artistic sister Chiara, and support from her family, friends, and Saint Mary's roommates, Giavanna started her own business selling one-of-a-kind, upcycled, everyday, and college-wear clothes.
"I came home for the summer and I was looking at all her stuff," she said about Chiara's hobby of making her own clothes. "And in the back of my mind, I've always wanted to own a business."
Women are at the forefront of making their business, Redo By 2, come to life, as Chiara creates the clothes while Giavanna, a sociology major with a concentration in business management, handles the business side of things. They recruit their friends to model the clothes. All the women in the family, including their mother, help shop for the pieces they will eventually make one-of-a-kind and sell online.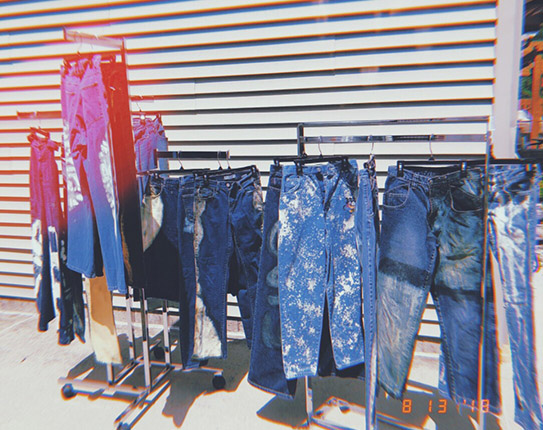 "It's really kind of cool what we're doing because, you go into a Goodwill and then you get clothes that people really wanted to get rid of, that no one really loved, you upcycle them, and then you're also putting money into that business and helping those people and their cause," she said. "Clothing waste and landfills are a big problem, so an environmentally friendly business is important."
Giavanna's sister Domini graduated in 2014 with a degree in biology. However, Giavanna was not initially sold on Saint Mary's, as she did not want to copy Domini's college choices and experiences.
"Sometimes I'm too unique for my own good," she said. "For the sake of being different, I'll just be different."
And although Giavanna still has her roots in her hometown of Columbus, Ohio, she now considers Saint Mary's her home, too. After graduating, Giavanna said she and her sister Chiara are hoping to open up a store in the boutique shopping district of the Short North Arts District in downtown Columbus.
While starting a business of this caliber can be daunting, Giavanna had the passion and the confidence to do so —  a confidence, she said, that grew out of the Saint Mary's community.
"Saint Mary's is one of the most encouraging environments I've ever been in," she said. "It pushes me to be better. It's given me the confidence to pursue something that's a little daunting."
Check out Redo by 2 on Instagram.