Presidential Perspectives: A Conversation with Carol Mooney about her trip to Le Mans, France, for the Beatification of Father Moreau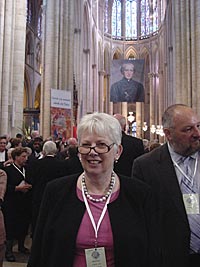 College President Carol Ann Mooney led a delegation from Saint Mary's to Le Mans, France, for the beatification ceremonies honoring Father Moreau, held September 15–17, 2007.


Can you describe for us the atmosphere in Le Mans, France?
From the minute we arrived at the Paris airport and met other representatives from Holy Cross, there was a celebratory feeling in the air. I was awed by the sheer number of people attending the various ceremonies. There were over 5,000 people at the Beatification Mass and ceremony, including the Prime Minister of France.
This is your second trip to Le Mans—the first being for the Holy Cross International Conference in 2004. How was this trip different from the first?
Because it was a return visit, it felt like a homecoming. Now that I am in my fourth year as the President of Saint Mary's, I feel more integrated into the Holy Cross family. It was wonderful to see priests, brothers, and sisters of Holy Cross, from around the world, who are now not only my colleagues, but also my friends.
You traveled with other representatives from Saint Mary's—Haley Nickell, a student; Joanne Snow, a faculty member; Richard Baxter, the director of Special Events; and Addie Cashore, the director of donor relations. Can you tell us what that was like?
Having them there with us made the whole experience so much richer. And, we had so much fun together! I particularly enjoyed Sunday morning when we had a little free time. My husband, George, and I took them to La Solitude—the first Holy Cross novitiate and now the home of the French Marianites. They were able to sit in the chair where Father Moreau slept for 20 years because of his bad back, and see the chapel and tabernacle where he prayed. George took pictures of that morning that I can't wait to share with each of them.
Was there something about the trip that you will never forget?

Two things stand out for me—and both were at the opening event in Laigné-en-Belin, the birthplace of Father Moreau. During the opening ceremony the original bell that hung in the church that he built was rung at the same time the bells were ringing in all the churches in Le Mans—it just sent chills down my spine. At that same ceremony they had placed little flags representing all the countries where Holy Cross ministers in the flower boxes—a simple gesture that really moved me.
How will this trip affect your work at Saint Mary's?

As you make your way through life, there are little steps that define your path, strengthen your commitment, and help you find your way. This was one of those steps for me. I feel emboldened by my experience to do what I can to ensure that Saint Mary's College remains committed to the Holy Cross values so clearly enunciated by Father Moreau over 170 years ago.