Program in Dance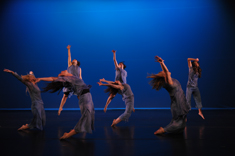 The Department of Communication Studies, Dance and Theatre offers a 16-hour minor in dance.  The minor prepares students for further involvement in the dance profession as artists, educators, researchers, leaders, and administrators.  The program values individuality, diversity, community, and the empowerment of women through artistic expression.  The curriculum fosters the development of the individuals creative voice, encourages risk-taking, and provides diverse artistic and academic opportunities.
The goals of the program in dance are:
Deepen cultural, theoretical, and practical awareness of the craft of dance.
Offer serious students the opportunity to extend their knowledge and technical skill through academic and performance courses.
Equip students with varied types of training necessary to enjoy dance as an avocation to work in dance-related fields, or to pursue more advanced studies of dance at a professional training school, performing company or graduate level.
Students are provided the opportunity to participate in all aspects of dance productions under the auspices of the Department of Communication Studies, Dance and Theatre.
The superior student may explore the possiblility of a Student-Designed Major (SDM) which encourages interdisciplinary and cross-cultural study. 
Interested in seeing more, check out our Facebook page.