Another Successful Year for Dance Marathon
FOR IMMEDIATE RELEASE
Another Successful Year for Saint Mary's College's Dance Marathon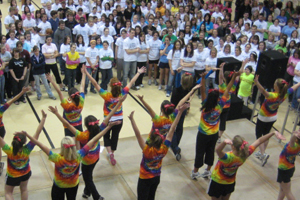 Media contact:
Gwen O'Brien
Director of Media Relations
Saint Mary's College
(574) 284-4579
March 6, 2011 (Notre Dame, Ind.)—On Saturday, March 5, more than 500 students from Saint Mary's College, Holy Cross College and the University of Notre Dame packed Angela Athletic Facility to dance in the 12-hour Dance Marathon for Riley Hospital for Children in Indianapolis. This year's marathon, which is organized and put on completely by Saint Mary's students, raised just over $63,200 for the hospital.
Since its inception in 2006, the Saint Mary's College Dance Marathon has raised over $380,000 for the hospital. The Saint Mary's students' efforts recently earned them special recognition. Last month a room in the newly opened Riley Hospital Simon Family Tower was named in honor of the Saint Mary's students' efforts.
"It really is an honor to know that a room is named for our Dance Marathon," said Katie Fadden, president of Dance Marathon at Saint Mary's. "Dance Marathon began at the College six years ago by students who saw a need to help a children's hospital better meet the needs of sick kids. Our students felt passionate about the cause then, and that passion is still strong."
Fourteen local children treated at Riley and their families attended the marathon. South Bend residents Chris and Michelle Quinn have relied on Riley Hospital's care for their daughter Keely. Hospitalized in the Riley NICU from birth until 2 months old, Keely was diagnosed with a heart condition, a bowel disease, and a blood disorder. "A year ago, our worst fears came true when at age 3 Keely was diagnosed with leukemia. She spent six months at Riley for inpatient chemotherapy. She is now in remission, and we are forever indebted not once but twice to Riley," said Chris Quinn.
The Saint Mary's students involved in Dance Marathon are affected by the planning of the event in many ways. "This isn't just a fundraiser for us. We know local Riley kids and their families. We see the difference Riley has made for them and that makes what we do so easy," Fadden said.
About Saint Mary's College: Saint Mary's College, Notre Dame, Ind., is a four-year, Catholic, women's institution offering five bachelor's degrees and more than 30 major areas of study. Saint Mary's College has six nationally accredited academic programs: social work, art, music, teacher education, chemistry and nursing. Saint Mary's College ranks among the top 100 "Best National Liberal Arts Colleges" in the U.S. News & World Report 2011 College Guide. Founded in 1844, Saint Mary's is a pioneer in the education of women, and is sponsored by the Sisters of the Holy Cross.