Saint Mary's Recognized for Community Engagement
FOR IMMEDIATE RELEASE
Saint Mary's College Receives Carnegie's Community Engagement Classification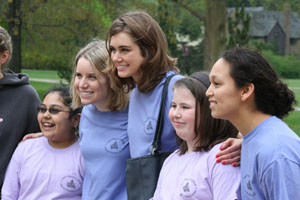 Saint Mary's College students pose with grade
school kids participating in the Pen Pal Program.

Media contact:
Gwen O'Brien
Director of Media Relations
Saint Mary's College
Notre Dame, IN 46556
(574) 284-4579
January 7, 2011 (Notre Dame, Ind.)—The Carnegie Foundation for the Advancement of Teaching announced this week that Saint Mary's College is among 115 U.S. colleges and universities selected for its 2010 Community Engagement Classification. The institutions join the 196 institutions identified in the 2006 and 2008 selection process. For Saint Mary's College, this national recognition is a tribute to community service efforts led by the College's Office for Civic and Social Engagement (OCSE).
"There is a spirit of service that is prevalent at Saint Mary's College. This designation is a testament to the devoted engagement of our students, faculty, and staff in issues facing our local community. This recognition is an honor and I believe it reflects Saint Mary's commitment to the best in Catholic higher education," said Carolyne Call, director of the Office for Civic and Social Engagement.
Colleges and universities with an institutional focus on community engagement were invited to apply for the classification, first offered in 2006 as part of an extensive restructuring of The Carnegie Classification of Institutions of Higher Education. Unlike the Foundation's other classifications that rely on national data, this is an "elective" classification. Applying institutions submitted descriptions and examples of practices of community engagement that demonstrated alignment of mission, culture, leadership, resources and practices. (To see the Carnegie Foundation for the Advancement of Teaching's press release, click here.
According to OCSE, 80% of Saint Mary's College students participate in service by the time they graduate (the national average is 55%). Among the community programs OCSE operates is the College Academy of Tutoring (CAT). Through CAT, Saint Mary's students work with local Title 1 schools in South Bend, offering services that include English, Reading, and mathematics tutoring; teacher assistance in the classrooms (including ENL skills building and Special Education); a Read-to-a-Child program; and the innovative Pen Pals program where fourth grade girls are paired with Saint Mary's students for a semester to share letters. Also through OCSE, dozens of students, faculty and staff participate in Rebuilding Together in South Bend every spring, helping to spruce up and repair people's homes; they also come together every December for the Twelve Days of Christmas, an effort that provides holiday gifts and necessities to area families and individuals in need.
The Carnegie designation is another national accolade for Saint Mary's College and its community service outreach efforts. For the past four years, The Corporation for National and Community Service has honored Saint Mary's with the President's Higher Education Community Service Honor Roll, the highest federal recognition a college or university can receive for its commitment to volunteering, service learning, and civic engagement.
About Saint Mary's College: Saint Mary's College, Notre Dame, Ind., is a four-year, Catholic, women's institution offering five bachelor's degrees and more than 30 major areas of study. Saint Mary's College has six nationally accredited academic programs: social work, art, music, teacher education, chemistry and nursing. Saint Mary's College ranks among the top 100 "Best National Liberal Arts Colleges" in the U.S. News & World Report 2011 College Guide. Founded in 1844, Saint Mary's is a pioneer in the education of women, and is sponsored by the Sisters of the Holy Cross.
About the Carnegie Foundation for the Advancement of Teaching: The Foundation is an independent policy and research center that supports needed transformations in American education through tighter connections between teaching practice, evidence of student learning, the communication and use of this evidence, and structured opportunities to build knowledge.