Retreats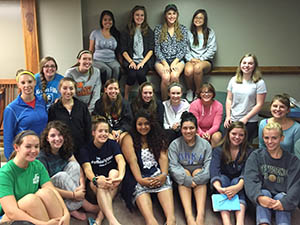 Experience any of our retreat opportunities, both on campus and off. Deepen faith and community as a participant. Develop leadership as a retreat team member.
The First Year Retreat
Join with new classmates on an overnight visit by a beautiful lake. Forge new friendships, share transition stories, hear from experienced student leaders. Pray together. Play together. Embrace your new life here as a woman of faith.
"I had never made a retreat before. I really didn't know what to expect. I took a deep breath as I boarded the bus to leave. Be open I kept telling myself. It was the greatest experience!"
The Busy Person's Retreat
Too busy for a retreat? Not with this one. Through daily short practices, engage in prayer, pray with scripture, and meet individually with an experienced spiritual mentor. Choose to participate in any or all of three retreats: Fall, Advent, and Lent.
The Senior Retreat
During your senior year take time to reflect on your experience here, on the ways you've grown in faith, maturity, and knowledge. At the Senior Retreat, you and your classmates will have conversation with an alumna and a Holy Cross sister. Learn about their journeys, and reflect on your own.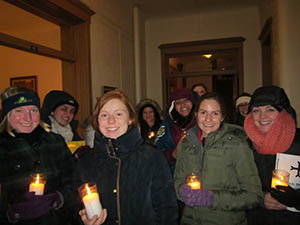 The Saint Mary's Encounter Retreat
Where is Christ calling you? How will you respond to the needs of this community? Journey off campus to encounter Christ in your fellow students. Led by a team of students and staff, you dive deeper into your faith to hear where Christ is leading you.
Contact person: Regina C. Wilson
Director of Campus Ministry
164 Regina Hall
rwilson@saintmarys.edu
(574) 284-5382