Archaeology in Wexford, Ireland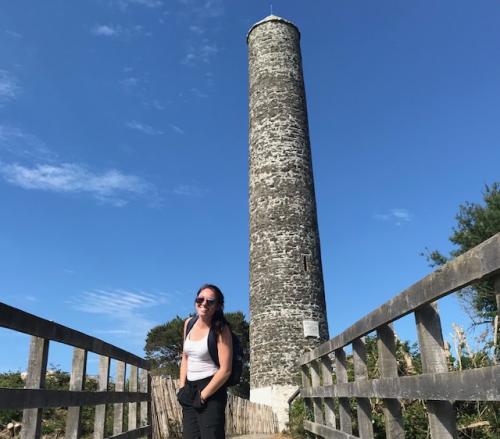 The Ferrycarrig ringwork is crucial to the earliest stages of the Anglo-Norman invasion of Ireland, being built in the winter of 1169 by Robert FitzStephen, the first Norman Knight in Ireland. The impressive structure would have comprised a castle set within a large man-made bank/palisade and external ditch, sited on a natural promontory overlooking the River Slaney and Wexford town. Nowadays, the bank and ditch are all that remain above the ground of this hugely important fortification, but archaeological excavations show significant evidence from this troubled time is preserved below the ground. The site is of key historical importance as it represents the very first wave of Norman colonization of the country as they established a foothold in southeast Ireland.
Program of Study
Students enroll in two courses during a four-week summer term run in collaboration with the Irish Archeological Field School.  In both courses, students are involved in learning and practicing the skills and techniques of a field archeologist.  In the first course, the focus in on archaeological excavation of human remains in a dedicated site laboratory within the confines of the Irish National Historic Park.  During these sessions, students will become familiar with the practical application of skeletal analysis in archaeological and forensic contexts.  In the second course, the focus will be on the archaeological site excavation and recording techniques – including excavation of archaeological features, documentation of finds, completion of site drawings and record taking of archaeological deposits.
On the 4 week program, students will complete coursework in Archeological Forensics and Archeological Excavation. The coursework will transfer as 4 credits and carry the AEL and Global A certifications for the Sophia program.
Field Trips 
Additionally, students will participate in field trips to several regional heritage sites including New Ross Town, Ferns Town, Wexford Town, Tintern Abbey etc. These field trips will help demonstrate the different physical, archaeological and cultural landscapes in Wexford and are designed to help place the archaeological sites and their forensic studies within its broader historical and geographic context.
Housing
Students will be housed in Home Stay accommodation in, and around, the town of Wexford, Co. Wexford. Home Stay students live with local families and experience true home life in provincial Ireland.  Breakfast and dinner will be provided along with a packed lunch by the host family.
Eligibility
The program is open to students of all majors. Non-SMC students can also apply.  Saint Mary's applicants can apply for the CWIL student travel grant and the Federal Gilman Summer Scholarship if you have received the Pell Grant.
For More Information contact:
Dr. Jennifer Zachman
Faculty Coordinator, Archaeology in Ireland
Associate Professor of Spanish, Department of Modern Languages
(574) 284-4839
jzachman@saintmarys.edu