European Summer Study Program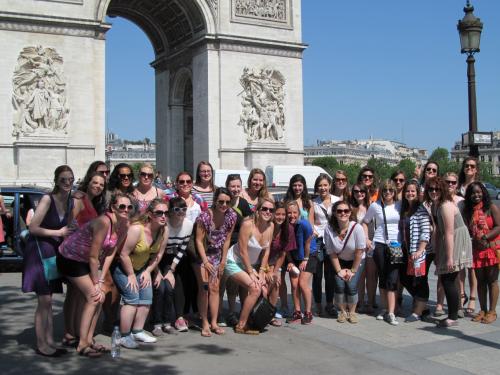 The European Summer Study Program introduces students to European daily life and history through cultural experiences, visits to the theatre, walking tours, introductions to international businesses and a host of other exceptional topics. This four-week program is offered every other year in odd years. It travels mid-May to mid-June, and provides a manageable study abroad experience for those that may not be able to engage in study travel in a full semester program. Classes are offered, not in the usual four-walled setting, but instead in the places where important events happened. Students picnic in the Bois de Vincennes while talking about the importance of cafe and promenade culture in Paris, attend a Shakespeare play in the Globe Theatre to learn about historic performance, and learn about the Irish Rebellion of 1916 in front of the General Post Office in Dublin where it began.
Students take three or six credits and apply them toward their Sophia or general elective needs.
In the past, program participants have visited Dublin, Edinburgh, London, and Paris. New sites are visited each year. Our accommodations range from B&Bs to hostels, to hotels.
For more information, contact: 
Melissa B Bialko, MFA
Faculty Coordinator, European Summer Study Program
mbialko@saintmarys.edu
(574) 284-4653
See More Options!