European Summer Study Program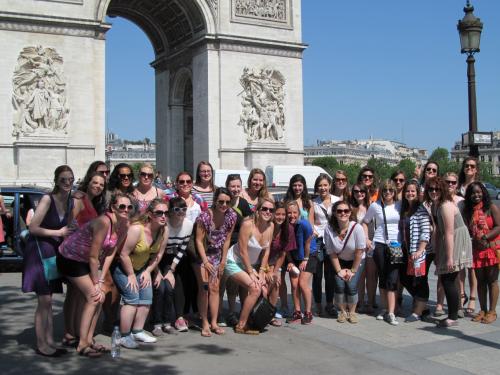 Learn about and study in seven countries in one month! The European Summer Study Program introduces students to European daily life and history through cultural experiences, visits to the theatre, walking tours to spectacular historic sites, introductions to international businesses and a host of other exceptional engagements. This four-week program is offered every other year. Students travel mid-May to mid-June, and are able to earn Sophia or elective credits while studying in Spain, France, England, Wales, Scotland, Northern Ireland, and Ireland.
This program provides an excellent short-term study travel experience, making study abroad possible for students that cannot or do not want to travel for a full semester, due to limitations such as academic scheduling or athletic commitments. It can also offer an additional opportunity to those who want to enrich their college career with a second study abroad experience. All are welcome; even alumni, students from other institutions, and first-time travelers have joined us!
All participants take one or two courses (three or six credits) while in this program. Classes are offered, not in the usual four-walled setting, but instead in the places where important events happened. Students picnic in the Bois de Vincennes while talking about the significance of cafe and promenade culture in Paris, attend a Shakespeare play in the Globe Theatre to learn about historic performance, and discuss the Irish Rebellion of 1916 in front of the General Post Office in Dublin.  Class sessions and group walking tours and site visits often end by mid-afternoon. Therefore, the remainder of the day is typically available for personal sightseeing. Some courses, such as theatre, may hold sessions in the evening or at night.
Courses are an additional cost, and credits may be applied toward Sophia or general elective needs. Current Saint Mary's College students may find Sophia Program information HERE.
Our accommodations are clean, well-rated B&Bs, hostels, and hotels in safe areas, close to popular public transportation stops. Breakfasts and two dinners are included in the program cost; students are responsible for providing their own lunches and most dinners. The program cost also includes train fares for public transportation in each city we visit. 
The application, acceptance, and deposit dates for this program differ from semester programs. Applications are due November 1. The acceptance decision date is December 1, and the $500 non-refundable deposit is due no later than December 15. All fees must be paid and course registration must be completed by May 1.
Cost and Financial Aid
Students pay Saint Mary's College summer tuition for three or six credit hours and the program fee. Financial aid from Saint Mary's will not apply to the summer session. Information on the Saint Mary's College summer student travel grant can be found by clicking HERE. To learn more about this program and associated costs, click the Application Information button and navigate to the program specific budget sheet. We encourage students to explore external travel and academic grants and scholarships.
Insurance
Saint Mary's College provides international health insurance to all students abroad through GeoBlue insurance company. Students on any Saint Mary's study abroad program are automatically enrolled and the fee is included in the cost of the program.
For more information, contact: 
Melissa B Bialko, MFA
Faculty Coordinator, European Summer Study Program
mbialko@saintmarys.edu
(574) 284-4653
See More Options!