Korean Culture Summer Study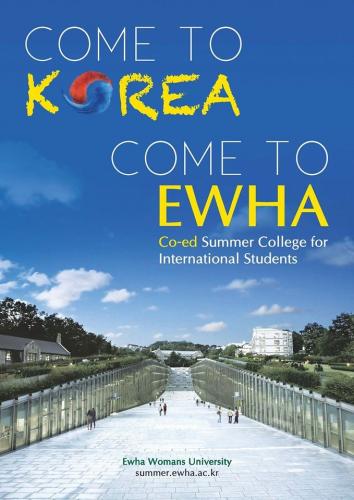 In 2008, Saint Mary's College established a direct student exchange program with Ewha Womans University in Seoul, one of the most prestigious universities in South Korea and the largest women's university in the world. Student who attended the program have returned with a new found appreciation for people of other cultures and have experienced a lifetime of memories in a city that many students never get a chance to visit. 
Ewha Womans University created the first international summer program in Korea. The credit-bearing program includes academic courses and extracurricular activities. Ewha Womans University offers two different summer sessions to cater to students' diverse needs. 
Session I
Session I is a four-week program in which students can choose a maximum of two courses and earn up to six credits. The program is designed for global minded students who desire to pursue both academic and cultural endeavors. 
English-taught Courses
Students can choose from around 30 English-taught courses:
Korean Studies
East Asian Studies
Women's Studies
Music
Art & Design
North Korean Studies
and more
Korean Language Course
Ewha provides four levels of Korean from Basic to Highly Advanced. Students will take a Korean Language Test to be placed in the appropriate class.
Korean Language Level 1 (Basic)
Korean Language Level 2 (Intermediate)
Korean Language Level 3 (Advanced)
Korean Language Level 4 (Highly Advanced)
Links for:
Academic calendar

More information about Session I 
Field Trips and Activities
Korean Folk Village
Everland
Cooking Korean food
Demilitarized Zone (DMZ)
House of Sharing (Shelter for Former War Sex Slaves)
Non-verbal performance
Session II
Session II is a two-week program in which students will earn three credits through a "Introductory Korean Studies" course. "Introductory Korean Studies" is a two-week program designed to provide students with an enriching opportunity to learn about and experience Korean culture, language, and history. Students will engage in hands-on learning through field trips and cultural excursions to places rich in traditional and contemporary Korean culture. 
Special lecture topics: 
Korean Art History
Korean Popular Culture
Relations with North Korea
Korean Traditional Music
Korean Cinema
Korean Women & Society
K-pop Dance
Korean cooking
Field Trips:
Hahoe Folk Village
Water rafting
Staying in a traditional Korean-style home
Watching a traditional mask dance
Attending a traditional music performance
Tasting traditional Andong cuisine
Links for:
Academic calendar

More information about Session II 
Travel and Orientation
Students must provide their own transportation to South Korea and back. Once students arrive in South Korea, they have a one-day arrival orientation.
Facilities
Exchange students are provided with housing in two residence halls on campus. Students are able to choose between the International House and the Graduate Dormitories. Both are conveniently located near the entrance to campus and classroom buildings. Students can choose between a single or double occupancy room, most of which have personal showers and bathrooms. 
All school buildings including the gym, laundry room, library, and computer lab are available for exchange students to use. There are two large cafeterias and a variety of international restaurants on campus. Also, there are hundreds of restaurants within a short walking distance. 
Insurance
Saint Mary's College provides international insurance for all participants for the duration of the program. Saint Mary's College exercises every possible care in the arrangements made for its students. The College, however, is not responsible for any loss, damage, or injury to person or property, nor does it accept responsibility in connection with the service of any means of transportation. It is wise to have insurance on personal baggage and possessions. 
Expenses
Costs are kept to a minimum. Program fees cover tuition and housing. Students will need to purchase meals themselves. The program fee does not cover round-trip airfare, other travel, registration, passport fees, books or expenditures of a personal nature. 
Eligibility
The Korean Summer Program is open to students of all majors. Non-SMC students can also apply. This is an English program and there are no Korean language or GPA requirement. One faculty recommendation is required. Saint Mary's applicants can apply for the CWIL student travel grant and the Federal Gilman Summer Scholarship if you have received the Pell Grant.
Ewha Womans University Tour Vlog
2016 Ewha Summer Program Brochure
For more information, contact
Alice Yang
Director for International Education
CWIL Global Education Office
(574) 284-4263