San Juan, Puerto Rico
This program is currently not accepting applications. The software for study abroad is being updated. Applications will be accepted again starting January 15, 2023. If you have any questions, please contact the CWIL office at abroad@saintmarys.edu.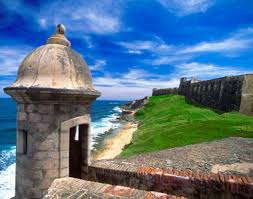 San Juan, the capital of Puerto Rico, has a population of 3,690,923 habitants and is the second oldest European-established city in the Americas. The island was founded in 1493 and became a commonwealth of the United States in 1952. The city of San Juan is the largest capital in the Caribbean and the cultural heart of Puerto Rico. Immerse yourself in the unique culture of the island, stroll along the cobblestone streets of Old San Juan, relax on over 300 Caribbean beaches, or explore the many natural wonders of this island, like the tropical rainforest right outside the city.
Location
Students study at the Universidad del Sagrado Corazon in the heart of the city. The University of the Sacred Heart was founded in 1888 and is a Catholic, independent, co-educational and non-profit institution. The Universidad del Sagrado Corazon is based on the teachings and guidance in ecumenical mission of the Catholic Church, encourages and facilitates spiritual, moral, intellectual, social and physical integral development of their students. Click HERE for more country-specific information.
Program of Study
Students choose to study for a year, fall semester, spring semester, or during the summer. The regular fall academic program in San Juan begins in mid-August and ends by late-December. The spring semester runs from late-January- late May.
While in San Juan all students take Spanish language courses to develop language competency in Spanish. Advanced students of Spanish enroll in the Integrated Studies program and take courses from the regular course offerings with native speakers at Sagrado.
Spanish Studies Abroad organizes various excursions, study visitis and other activities throughout the semester or summer. Study visits include: Ponce, El Yunque, Tropical Rain Forest, and Bioluminscent Bay in Fajardo.
Travel and Orientation
Students arrive in San Juan on their own and are met by the director of the San Juan program. Our students participate in the program provided by the Universidad del Sagrado Corazon. During the first week on campus, students engage in an orientation program with their advisor and professor.
Housing
Students are housed in residencias, on-campus dormitories. Dorms include: facilities that allow student interaction, double occupancy rooms equipped with beds, air conditioning, desks with chairs, closets, a fridge and a telephone, shared bathrooms and cooking facilities, shared kitchens with freezers, stove, and microwave ovens, computer centers, access to gym, pool, basketball, tennis, and beach volleyball courts, and laundry facilities.
Transportation, Costs, and Financial Aid
Students pay the standard Saint Mary's College tuition rate and a study abroad fee. Room and board rates will be slightly higher than if studying on the SMC campus, each program has a standard accommodation package. These fees cover the cost of Universidad del Sagrado Corazon tuition, room, board, and scheduled field trips. Expenses not covered include passport and visa fees, domestic and international airfare, personal travel and expenditures, books and supplies, and food during holidays. All students who plan to study abroad are required to pay a non-refundable deposit.
Most Saint Mary's College scholarships and financial aid can be applied to the semester or year in Puerto Rico but not the summer program. There are a few financial aid awards from Saint Mary's College that cannot be used while studying abroad, please check with the Office of Financial Aid about your specific aid eligibility.
To learn more about this program and associated costs, click the Application Information button and navigate to the program specific budget sheet.
Insurance
Saint Mary's College provides international health insurance to all students abroad through GeoBlue insurance company. Students on any Saint Mary's study abroad program are automatically enrolled and the fee is included in the cost of the program.
Eligibility and Requirements
Saint Mary's students wishing to study in the San Juan program must have an overall 3.0 GPA with varying levels of college level Spanish (or heritage speaker) depending on the selected program. Students applying to the integrated studies program must have completion of one semester of advanced college-level Spanish or the equivalent, or native/near-native speakers of Spanish. Students applying to the international studies program or summer terms must have one semester of college level Spanish or the equivalent completed.
It is important that participating students are positive representatives of Saint Mary's College while abroad. Therefore, a successful candidate is expected to have an exemplary disciplinary record, emotional maturity, and an openness to new experiences and other cultures.
For more information, contact:
Rebecca Méndez
Assistant Director of International Programs
Center for Women's Intercultural Leadership
(574) 284-4740
rmendez@saintmarys.edu