Mission
Division for Mission Pages
What happens when faith and reason meet? How does a spiritual tradition challenge or enhance the exercise of reason in an academic discipline or a profession?
Join Saint Mary's faculty, staff, and students for informal conversation over lunch to discuss these questions! Every Spirituality Monday will be from 12:00-1:00 p.m. in Conference Rooms ABC in the Student Center.
Seminar with Sandra Schneiders, IHM



A Holy Cross education centers on educating the whole person. This notion is derived from Blessed Basil Anthony Moreau's oft-quoted statement "the mind will not be cultivated at the expense of the heart."
THE SOPHIA PROGRAM



(November 18, 1921 - January 4, 2012)

Word has been received of the death of Sister M. Rosine (Hammett) who died at 1:30 p.m. on Wednesday, January 4, 2012, in Saint Mary's Convent, Notre Dame, Indiana.
That was Then...This is Now: The Past, Present and Future of Women Religious in the United States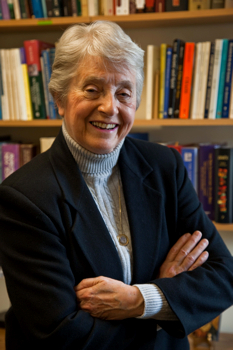 Support the Saint Mary's House -- Get Your House Pin!
This year as a fundraiser for our house sponsorship, the OCSE will be selling handmade house pins, created for Rebuilding Together by staff and students at the College. Each pin reflects a unique design and can be yours for a $5 donation, 100% of which goes toward our house sponsorship
Pins will be on sale in the atrium of the student center and at Lula's Cafe (off the ND campus on the corner of Angela and Route 23) during April. You can also stop by the OCSE on the second floor of the Student Center!