About President Mooney
Biography - Carol Ann Mooney, J.D.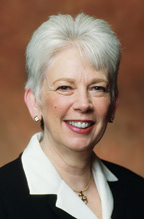 President Carol Ann Mooney took the helm at Saint Mary's College on June 1, 2004. Her appointment is historic in that she is the College's first lay alumna president.
President Mooney's long-time professional involvement in Catholic higher education began when she became a member of the University of Notre Dame Law School faculty in 1980. She received the law school's Teacher of the Year award in 1983 and later served terms as both assistant and associate dean of the law school.
President Mooney served as Notre Dame's vice president and associate provost from 1996–2004.
A native of Norwich, N.Y., President Mooney graduated from Saint Mary's College in 1972 with a B.A. degree in English and received her J.D. degree from the University of Notre Dame Law School in 1977, graduating first in her class. She practiced law from 1977–78 as an associate attorney in the Washington, D.C., firm of Jones, Day, Reavis and Pogue.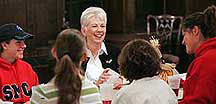 President Mooney is the coauthor of two books along with numerous articles in law reviews and other scholarly periodicals. She is a member of Phi Beta Kappa and was elected a member of the American Law Institute in 1988. U.S. Supreme Court Chief Justice William Rehnquist named her a member of the U.S. Judicial Conference Advisory Committee on Federal Rules of Appellate Procedure, for which she had served as reporter for more than 12 years.
President Mooney and her husband, George Efta, are the parents of four daughters: Elizabeth, Christine, Caitlin, and Valerie.