Strategic Plan

Boldly Forward: A Strategic Plan for Saint Mary's College
Download the full strategic plan (PDF)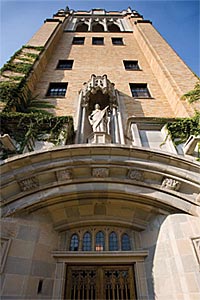 The Strategic Plan, "The Path to Leadership," was approved in October, 2007. That plan was intended to guide our work through October 2012. Consequently, last fall I began to consider how to shape our new work plan. I held twelve listening sessions during the month of September. I invited every full-time employee to attend one of those sessions at which we discussed the following issues: what Saint Mary's does really well; what we should focus on during the next five years; how we can work smarter; and, finally, any other issues the participants wanted to bring to my attention. The information that I learned at those sessions informed my thinking as we moved forward with this new strategic planning process.
A Strategic Planning Committee was formed and held its first meeting in October 2011. The committee included the President's Cabinet, five faculty members, a member of the Board of Trustees, the Student Government Association President, a staff representative, an alumna, the Director of Institutional Research and Assessment, the Director of Human Resources, and two Associate Deans. This central committee later broke into four sub-committees each of which was chaired by a faculty member. The four subcommittees were: The Current Environment for Higher Education, Academic Initiatives, Life of the Student Outside the Classroom, and Resources. Each sub-committee was free to add more members to aid the committee in its deliberations. Each sub-committee submitted recommendations, most of which found their way into the following draft.
Our previous plan, "The Path to Leadership," was ambitious. Indeed, I have heard from some members of the Saint Mary's Community that we have had too many projects over the course of the last several years. Although I think a strategic plan should be realistic, I also believe that it should aim high. Only with high aspirations will we continue to improve Saint Mary's College. Therefore, it is quite likely that this new plan, when finalized, will contain just as many recommendations as the previous plan. Because of the importance and scope of some of the goals in the last plan, some of the recommendations in this new plan will actually be continuations of projects underway but not yet completed.
Of the 29 distinct recommendations in "The Path to Leadership," 17 have been completed or are in progress. This is an extraordinary accomplishment even in ordinary times. The last five years have been anything but ordinary. We have lived through the worst economic downturn since the Great Depression; there has been a significant decline in the public's trust in higher education; and there has been a decline in families' ability/willingness to pay for higher education, especially private higher education.
I am extremely grateful to the entire college community for the efforts expended over the past five years to make Saint Mary's better and stronger. Those efforts have been fruitful. Saint Mary's continues to have a strong financial base and, with the exception of fall 2010, student enrollment has remained strong. We remain an institution with lofty ambitions and a work ethic that sustains us while we strive to achieve the goals we set for ourselves.