About President Jan Cervelli
Jan Cervelli became the 12th President of Saint Mary's College on June 1, 2016. A leading architecture educator and administrator, President Cervelli, FASLA, FCELA, came to Saint Mary's from the University of Arizona, where she served for eight years as Dean of the College of Architecture, Planning, and Landscape Architecture. Previously, she was Dean of the Clemson University College of Architecture, Arts, and Humanities from 2000-2007.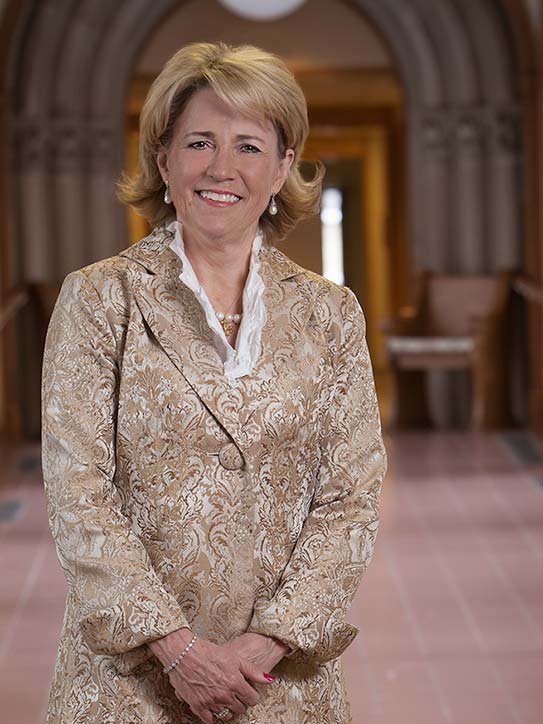 Before becoming an administrator, President Cervelli was an honored professor, earning Outstanding Undergraduate Teacher awards from the University of Kentucky and the United States Department of Agriculture, as well as the Gamma Sigma Delta honorary society's Master Teacher commendation.
President Cervelli received a Master of Landscape Architecture from the University of Guelph and a Bachelor of Science from Purdue University's College of Agriculture. Both institutions have recognized her distinguished contributions to the field.
The American Council on Education selected President Cervelli as a Fellow in 1998 and she was recognized with the Outstanding Administrator Award by the Council of Educators in Landscape Architecture. President Cervelli also has served as a delegate to the International Federation of Landscape Architects and as Vice President for Education of the Landscape Architecture Foundation.
With her expertise in urban design and planning, President Cervelli has advised numerous U.S. cities on models for growth, including the City of Tucson's Modern Street Car corridor. As chair of the Downtown Tucson Partnership, she collaborated with a diverse range of stakeholders to develop a sustainable revitalization plan. She is also a past board chair of Arizona Forward, a statewide environmental advocacy organization.
President Cervelli is working on a book entitled, Le Citta' Murata Italiana—The Walled Towns of Italy.
A South Bend native and a lifelong Catholic, President Cervelli is a graduate of Saint Joseph's High School.