Chemistry Program
Transform your understanding of Chemistry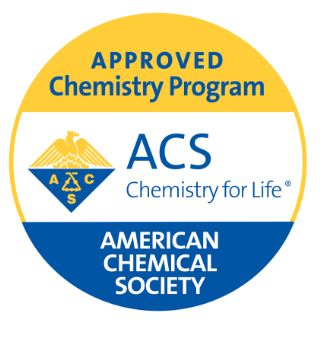 As a chemistry major you will work closely with faculty to create a challenging and supportive environment for exploration, innovation, leadership, and self-discovery. Newly renovated facilities allow for active learning, group study, and novel scientific research. The Department of Chemistry and Physics is nationally approved by the American Chemical Society and produces women leaders in their fields, whose average salaries are higher than the national average one year out. You will be empowered as a woman in STEM with an integrated understanding of chemistry and its application to the world.
100%

 of students conduct research

480+

 hours of hands-on laboratory experience

94%

 of chemistry majors are enrolled in grad school or employed full time one year out
   Check out the Department of Chemistry and Physics on Facebook!
Discover your inner chemist
A chemistry degree from Saint Mary's will prepare you to be a leader in your profession, whether you choose to pursue medical school, teaching, a PhD, the pharmaceutical field, or any other adventure. Here, you will have the opportunity to grow professionally and personally through the curriculum, research, workshops, and personalized mentoring. You can pair your chemistry degree with an engineering degree as part of the Five Year Dual Degree Program in Engineering with the University of Notre Dame.

Engage in orginal research
Students have early access to research in the classroom and in the lab, and flexibility in the STEM fields to discover which path is right for them. Whether collecting pharmaceutical samples in Nepal or working on instrumentation in a lab, at Saint Mary's you will have the resources and the freedom to explore projects that interest you. Beginning your first year at Saint Mary's, you will have the opportunity to use instrumentation, collect and analyze data, design experiments, and more.
15

 average class size in upper level courses

97%

 of chemistry majors said Saint Mary's prepared them well or very well for grad school

$77k

 median salary for chemists with a bachelor's degree
Get hands-on experience
The instrumentation you will utilize at Saint Mary's is more advanced than most other undergraduate programs. Students will work directly with lab equipment and are instructed by full-time faculty who will get to know you on a first-name basis. In our Advanced Lab sequence during your junior year you will conduct original, interdisciplinary research within the field of chemistry. Our integrated approach to chemistry empowers students to develop as professional scientists and provides opportunities for publication and presenting at conferences.
Pursue a minor in Physics
Deepen your understanding of the laws of nature and enrich your ability to solve problems. If you choose to minor in physics, the path is highly flexible, making it possible to combine studies in physics and chemistry. Click here to learn more.