Mary Kate Luft
Student Profiles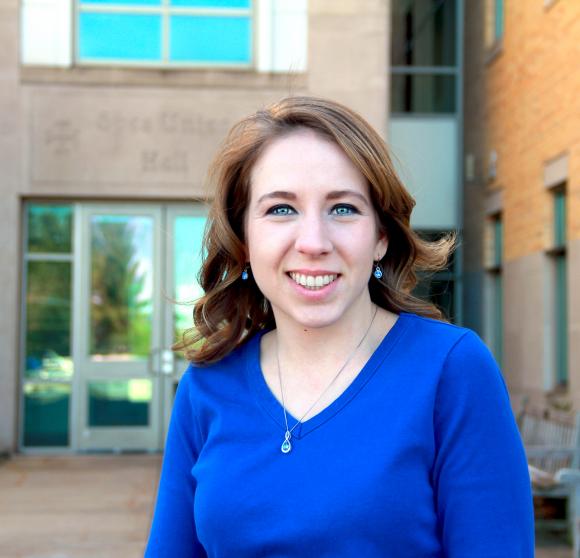 "I learned to manage my time really well."
Mary Kate Luft '17 chose Saint Mary's for the small class sizes and close proximity to the University of Notre Dame.
Pursuing a future in public service
Her parents both work in government back home in the Washington D.C. Metropolitan Area and Mary Kate says they have inspired her to want to work in public service. She takes classes at the University of Notre Dame in the International Peace Studies program. One class she took, titled The Roots of Human Trafficking, discussed both historical and present-day slavery.
"We discussed at length what the definition of slavery is and how slavery goes against the rights and dignity of human beings. I still haven't come up with any concrete answers to these problems, but I would love to work on issues like these in the future in the attempt to solve them. "
A lover of travel, she thought she would major in global studies at Saint Mary's, but after taking the course Lives and Times, she decided to declare as a humanistic studies (HUST) major.
Still wanting to foster her love of travel, she applied to spend her junior year at the University of Oxford in England. She and a fellow Belle, Kate Kulwicki '17, were both accepted to the program and lived in a house together, along with other housemates, throughout the nearly 10 months they were there.
Learning through travel
Although the courses were much different abroad, Mary Kate found similarities between the small class sizes at Saint Mary's and the one-on-one tutorial style at Oxford. There she wrote two essays a week, learned to manage her time, and had "the best year ever!"
"I learned to manage my time really well because it's mostly independent work."
Along with managing her time, Mary Kate learned to enjoy each moment.
"Kate and I spent many nights in our kitchen cooking dinner with our housemates or having tea and talking for an hour or two before going up to bed, or to do more work. I just really appreciate every day I had and every person I lived with and met."
Mary Kate hopes to return overseas to pursue a master's degree.