Dynamic Community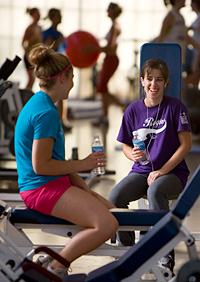 Our vibrant campus life begins with a community of eager women and involved faculty and staff. With approximately 1,500 students, our intimate size creates a friendly, welcoming atmosphere. Our beautiful tree-lined Avenue and historic buildings create a serene setting you'll find comfortable and inviting.
Ninety-one percent of Saint Mary's students live on campus.
Engaging in Activities
You'll perform alongside professors in campus plays and join President Mooney for a meal in the dining hall. You'll gather with students from Notre Dame and Holy Cross at Saint Mary's Belles Bash. You'll plan late-night activities for the women in your residence hall, study with classmates in the library, and tutor elementary school children in the local community.
Connecting with Notre Dame
As a student at Saint Mary's, you can participate in Notre Dame academics and activities. Join the legendary excitement of football Saturdays by attending a game or performing in the Fighting Irish Marching Band. You can take a class, join a club, or participate in club sports. Notre Dame's resources are available to the students of Saint Mary's College, and Notre Dame students can likewise participate in Saint Mary's academics and activities.
Saint Mary's College is a close-knit community dedicated to supporting you in everything you do. You'll develop lifelong friends, discover your talents, and learn to become a confident leader.