Courier Online - Fall '06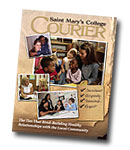 Fall 2006
The number of Saint Mary's partnerships in the local community is impressive. As part of its mission, the College cultivates a sense of social responsibility in students. But as outreach efforts blossom, so does a clearer sense of what kind of approaches best serve both sides.Saint Mary's students take their studies on the road.
The first in a six-part series on Saint Mary's nationally accredited programs.
This year, Saint Mary's once again earned high marks from the Higher Learning Commission, the evaluating arm of the North Central Association of Colleges and Schools.
Through her work as a medical social worker, Maureen Donovan '00 brings hope to many forgotten people in inner-city Chicago.
Full Edition
Download the full edition in pdf format here (PDF, 3.9 MB)