Reunion '08
On Thursday, May 29, alumnae began to arrive. By Friday, the celebration was in full swing. Alumnae toured the new academic building, took a cooking class, received tax tips, and pondered the nature of the soul. Really! And that was only Friday!
Reunion 2008 proved to be one of the finest ever as alumnae returned to campus to renew their friendships and themselves.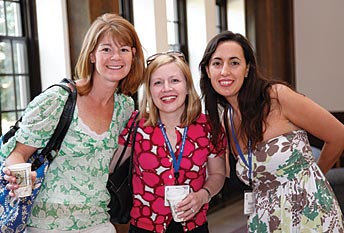 April Ehret Sullivan '93, Martha Conlin Walsh '93, Rebecca Votto '93
"A wonderful reunion, campus looks beautiful and I am delighted with the direction Saint Mary's is taking under the direction of Carol Ann Mooney."
— Patricia Gersuk Cavanaugh '68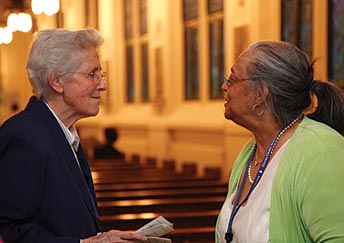 Sister Miriam Patrick Cooney, CSC '51; Patricia Lacour Pinado '58
"The reunion experience was wonderful. I never missed one in fifty years! And hope to keep coming back for more."
— Ellen Ganny Warner '58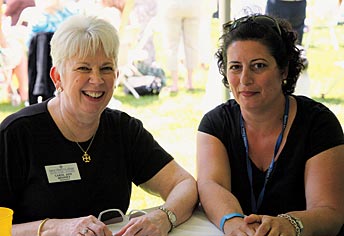 President Carol Ann Mooney '72 and Checka Trigiani Noone '88
"It was wonderful to be here—I appreciate everything more!"
— Jennifer Bouska Corazza '93
"Thanks for a great weekend! Saint Mary's is always a second home and I recognize my own strength and self-empowerment."
— Courtney Merriss '98

"The speakers at the banquet were spectacular—utterly conveyed the sense of Saint Mary's soul and connectedness."
— Claudia Trardt '73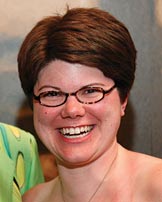 The Outstanding Young Alumna Award was presented to Geneviève Morrill '98 in recognition of her accomplishments, professional and volunteer, which exemplify the standards, ideals, and mission of Saint Mary's College and the Alumnae Association. Geneviève began by being an outstanding student, studying history and French, serving on the Student Academic Council and the Board of Governance, and being awarded the St. Catherine Medal.
As an alumna, Geneviève worked to revitalize the Chicago Club, now the Chicago East Club. As communications chair in 2002, Geneviève created the Chicago alumnae electronic mailing list, which transformed the way the club communicated. The list now connects over 1,200 area alumnae. Beyond club communications, Geneviève has taken a leadership role in Founders' Day events, scholarship fundraising, and such Chicago Club flagship events as the 2003 Monet and the Sea lecture at the Art Institute of Chicago and the 2005 Welcome to the City reception for new graduates. She has staffed college fairs, attended prospective student events, and called accepted students to talk to them about her Saint Mary's experience. For her efforts on behalf of the club and the College, the Chicago East Club honored her with its Founders' Day Award in 2005. Geneviève is a staff attorney with the Illinois Appellate Court and an adjunct professor at DePaul University College of Law.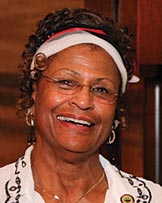 The 2008 Humanitas Award was presented to Mamiella Chavis Brown '79. Mamiella lives the Saint Mary's directive to its graduates to "make a difference in the world" in every aspect of her life. Mamiella is an educator and community volunteer without parallel. Mamiella began teaching after graduation for the South Bend Community School Corporation. She went on to earn graduate degrees in education, counseling, and social work, and served as a counselor in summer youth programs, Notre Dame's Upward Bound program, and the St. Joseph County Juvenile Facility.
Mamiella is also a long-time member of the League of Women Voters, the Women's International League for Peace and Freedom, the National Association for the Advancement of Colored People, and the Urban League. She has won numerous awards from these organizations and others for her extraordinary record of service. Most recently, she was honored with the Rosa Parks Award at this year's City of South Bend community celebration of the life of Dr. Martin Luther King, Jr.
The foundation of this work of service is Mamiella's strong Catholic faith. She has been active in several area parishes, particularly St. Augustine's, where she is a Eucharistic minister, a music minister, and director of the after-school African American Tutor Program. In addition to her parish work, this mother of four living children and grandmother now of 20 has been a delegate to every national Black Catholic Congress since 1987.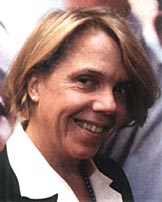 The Alumna Achievement Award was presented posthumously to R. Gaynor McCown '83 in recognition of her outstanding personal and professional accomplishment. Through­out her life, Gaynor fused her love of learning with her compassion for children and her belief that all children have a right to excellence in education.
Gaynor earned her master's degree from the Harvard Graduate School of Education, and then signed on to teach science and health at one of the poorest public high schools in the Bronx. Gaynor's experience there would be the catalyst for her groundbreaking and influential work as an education policy maker and advocate.
In 1993, Gaynor became a White House Fellow in Washington, D.C., and shaped a number of policies involving charter schools and the standards movement. She returned to New York to assume the position of senior vice president for education and workforce development for the New York City Partnership and Chamber of Commerce. There, she focused on increasing the private sector's role in public education and led Breakthrough for Learning, the first pay-for-performance system in the New York City Public Schools. After receiving her M.B.A. from Columbia University and a stint as vice president for business development at Edison Schools, Gaynor was recruited to be executive director of the Teaching Commission, a bipartisan advocacy group of leaders in business, government, philanthropy, and education, headed by Louis Gerstner, the former CEO of IBM. There, she focused on crafting and implementing reform agendas as a way to revitalize the teaching profession in the United States. She lobbied for higher teacher compensation, change in teacher preparation and training, and other reforms, firmly believing that "schools are only as good as their teachers." In 2004, Gaynor was lead author of the Commission's bipartisan report Teaching at Risk: A Call to Action. Also that year, she was named a member of the Council on Foreign Relations.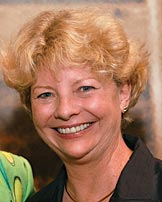 The Distinguished Alumna Award was presented to Margaret FitzGibbons Higgins '73, known to all as "Peg," who has served her profession, her alma mater, and her community generously and enthusiastically.
Throughout the course of her career—one that took her from Chicago to Singapore and from a personal banker to a national human resources director—Peg still found time to be her class' reporter for the Courier and serve on her class' first Reunion committee. She was an active member of the Chicago Club, a mentor to many, and the co-chair of an extremely successful Chicago campaign effort during the College's 1996 Sesquicentennial Campaign. And for the College as a whole, Peg served on the President's Alumnae Advisory Council for six years and the Chicago Advisory Council for six years until moving to South Carolina in 2005. Peg is also a long-time member of the Madeleva Society.
Peg has also volunteered as a member of the Mental Health Association of Greater Chicago and served as president of the board for two years. She spent several years on the Board of the Illinois Council Against Handgun Violence. She was one of the original members of the Leadership Council for Mercy Home for Boys and Girls. And, just a few years ago, as a member of Chicago's St. Theresa of Avila Church, she helped to organize and establish the parish food pantry. After moving to Charleston, South Carolina, in 2005, Peg became involved with the ALS Association, working as an advocate. Peg is also a member of the Junior League of Charleston.