Courier Online - Summer 08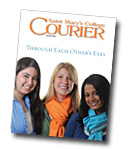 Summer 2008
Two friends live the Saint Mary's study abroad experience.
Student groups pave the way for a multicultural campus life.
Culture and language go hand in hand in the classroom.
Students take the lead in the third annual Diverse Students' Leadership Conference.
The new Certificate in Intercultural Leadership at Saint Mary's is preparing women to be leaders beyond borders.
Full Edition
Download the full edition in pdf format here (PDF, 3.1 MB)