Courier Online - Winter 08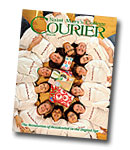 Winter 2008
The new technology in Spes Unica Hall is bringing students and professors together—and moving them into the future.
Saint Mary's new communicative disorders major offers students a new career option.
New artwork evokes mission and future.
Saint Mary's students, faculty, and staff look at the causes of poverty and what can be done.
Alumnae Kim Holly Maher '05 and Ashley Thornburg '05 carry on the Saint Mary's tradition.