Christmas Time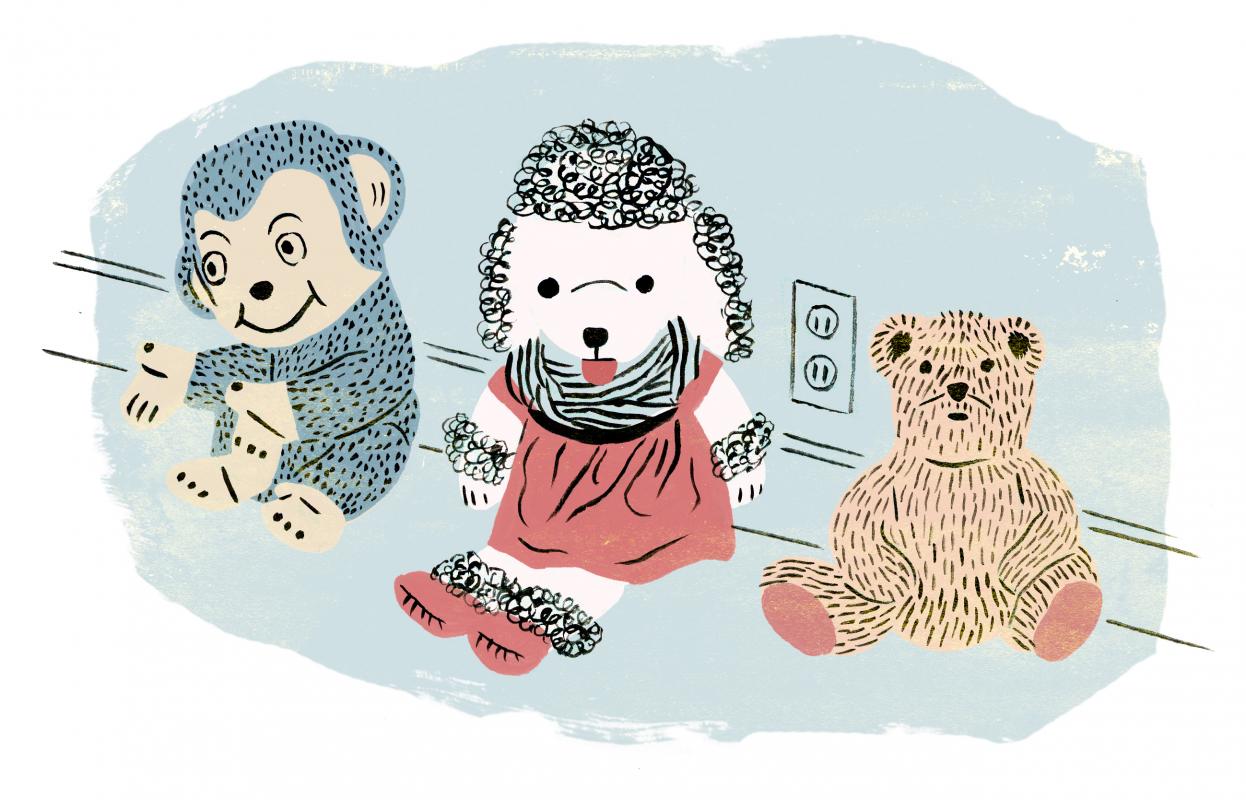 Betty Moore — Class of 1953
Christmas was most wonderful. Singing in the tunnel 'so many days til we go home.' The formal dinner the night before going home. All together after dinner to sing and listen to carols in the center hall. Somebody playing music and putting the stuffed animals in the hall " going to Jerusalem". The juniors caroling in the hall at 5 in morning on that final day to awaken us to get ready to go home. It was the most wonderful time of the year. Never have forgotten.
---
Nancy Cole Hodapp — Class of 1955
Night before going home for Christmas, stuffed animals lined up in the hall and seniors in cap and gown carrying candles going through the halls singing carols. I remember lots of things but not sure they were traditions. I can put lots of faces to names to my classmates and wonder where they are now. We were a super class of young women...a good start in our adult life.
---
Mary Jo Long Coulter — Class of 1957
On the last morning before Christmas break, the juniors wearing tinsel wreaths and carrying candles wove their way through the halls of LeMans. All was calm and all was dark except for the candles.
---
Sally Teppert McKendry — Class of 1958
At Christmas we formed an animal parade to the chapel.
---
Patricia Kennedy Flock — Class of 1958
Christmas tradition at Holy Cross Hall as a freshman 1954–55. Advent wreath which we continued after marriage and raised five children.
---
Catherine Bliley Wright — Class of 1961
In LeMans hall the most memorable event was the Christmas dinner which was hosted by the junior class. I am really glad to have had a dining hall as opposed to the cafeteria type dining now. We didn't have to make food choices. When the Feast of St. Nicholas came on December 6, we put a shoe outside our door, much to our surprise we had candy left in our shoes for us. Also, before Christmas, there was a parade of stuffed animals on the stairs leading to the chapel. These traditions were specific to Holy Cross.
---
Patricia A. Martin — Class of 1963
In Holy Cross: The tradition of having your junior "big sister" come through the tunnel in the middle of the night before leaving for Christmas break in academic gowns and carrying lit candles to sing carols through the halls.
---
Mary Jo Martin — Class of 1963
The caroling the night before we went home for Christmas in Le Mans.
---
Kay Christenson Janiszewski — Class of 1964
I still think of the parade of stuffed animals in Holy Cross the night before we left for Christmas vacation. I also loved the holly and the tinsel head pieces we wore for the very elegant Christmas Dinner of duck and baked Alaska. I loved having a nun at each table for all of our dinners, and the intelligent conversation she often led with us.
---
Cherylann Harrington — Class of 1966
By senior year, caroling through the halls of La Mans at Christmas time, in robes with holly wreaths on our heads, was a life -long memory.
---
Patt Vanderkarr Von Bergen — Class of 1967
I loved our junior year when we walked through the tunnel to go caroling in Holy Cross carrying candles to light the way. Singing 'Holly and the Ivy' was a wonderful send off to Christmas break.
---
Patti Theisen Moye — Class of 1967
The night before Christmas break...The Parade of Animals down the halls of LeMans followed by the skit of all times... and "Twelve Days Of Christmas "
---
Jane Evans Schaffler — Class of 1968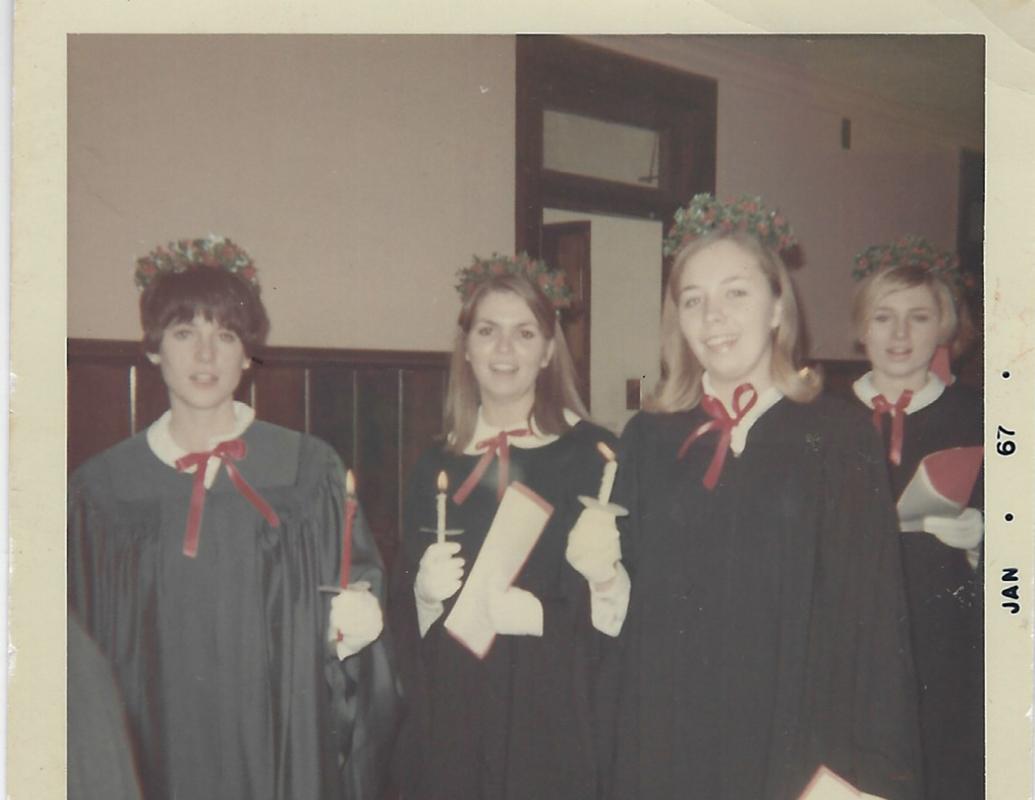 As Sophomores, we all paraded over all dorms at 5:00 am the morning of our last day before Christmas break. Our academic calendar did not end until finals were over in January - (yes, we came back to campus after Christmas and took semester exams) — so our last day of class was insignificant. The sophomore class had spent the last two weeks learning all the Christmas carols by heart. We wore black choir robes, had holly in our hair and we held small candles and walked dorm to dorm, floor to floor singing. It was magical to wake up the campus that morning. This is my favorite memory of dorm life! The alums in this picture are Maureen Murphy, Francie Russell and Jo Lea McNamara
---
Catie Condran Geist — Class of 1968
At Christmas time, we used to line up our stuffed animals outside our rooms in the hall, leading the way to the chapel. This was on the fifth floor of Le Mans Hall.
---
Nancy Freeman — Class of 1968
I loved the tradition that beginning at about 2am on the last day before leaving for Christmas break Juniors serenaded all the residential halls while carrying lighted candles. I particularly remember singing "The Holly and the Ivy". It was an exiting way to wake up and a memorable way to contribute to the campus community. I think we went to breakfast afterwards... not certain about that.
---
Maryanne Kearns Christenson — Class of 1969
Saint Nicholas celebration with candy left in your shoe outside your dorm door. Still happening? The lighted singing and parading before Christmas break. Still happening? Does the ND Junior class still have weekly dances?
---
Karen Preston McCarty — Class of 1970
I especially loved the Christmas dinner hosted by the junior class and the tradition of that class walking the halls in our nightgowns with lit candles singing Christmas carols after the dinner. This wasn't specific to the hall you lived in but made for such a great memory!
---
Colleen Monahan — Class of 1972
Best memory is leaving our stuffed animals on the stairs at Christmas time for the carolers.
---
Margaret Rurak — Class of 1972
Not sure if every dorm carried on the St. Nicholas Day tradition of leaving a shoe outside of your dorm room and it was filled with "goodies " overnight, but I remember we did in LeMans.
---
Cathy Hicks — Class of 1973
The amazing Christmas tradition of carrying candles down to the front door of Holy Cross to view and hear the boys from Notre Dame glee club serenade us out front . It was dream -like .... out of a Frank Capra film!!! A treasure
---
Jan Gabler Cranfield — Class of 1974
Candlelight Christmas caroling . Mass in pajamas and a raincoat!
---
Carolynn Pete Evans Wanner — Class of 1975
Because of the nature of this new dorm and new students, traditions weren't part of Augusta Hall life. School wide Christmas Celebrations and our "big sisters" caroling in our stairway was very special, though. Our floor was full of folks who loved to sing, so I should correct this, because "Let Me Call You Sweetheart" in multi-part harmony became our theme song. Ditties adapted from other times "We are Saint Mary's Girls" and musical commentaries on the merger/non merger were shared in the dining hall or anywhere else we felt like breaking into song.
---
Marianne Rinella Fotopoulos — Class of 1975
The Notre Dane Glee Club coming to sing at Christmas. Our tree in the lobby was beautiful and our favorite song was "The Bells of St Marys"
---
Kathy Clapp — Class of 1975
We always loved when the ND glee club would sing "The Bells of St. Mary's"outside our windows at Christmas time.
---
Karen Zagrocki McDonald — Class of 1976
Christmas decorations . . . Le Mans looked beautiful. And, as I recall, for a few years, the upper classwomen would carol through the halls.
---
Mary Sheeran — Class of 1976
The Christmas caroling through the halls by candlelight. Loved doing it, loved experiencing it.
---
Linda Kawecki — Class of 1979
This wasn't specific to our hall, but our freshman year quint did a Christmas celebration the night before we left for the winter break. We had a small Christmas tree, we ate dinner at the dining hall as family, and then back in our room exchanged gifts. Each of us bought everyone else a gift — as none of us had any money, it was amazing to see the truly thoughtful gifts we choose for each other costing less than $1 or so. They were things like erasers and pencil sharpeners. . .but each gift was chosen specifically for the receiver and there was a story to go with why the gift was chosen. One gift I remember I received were the little elastic clips for children to attach to their coats and mittens (because I was always losing my mittens). And most of us used tampon boxes to contain the gifts we were wrapping! It remains one of the best gift exchanges I've ever been a part of.
---
Carol Knych Stephens — Class of 1983
I remember the ND glee club singing on the stairs inside Holy Cross. I loved how we would put our stuffed animals in the hall facing South and the SMC choir would come through the halls singing Christmas carols and spin them to face towards the north where the star of Baby Jesus was shining
---
Roseann O'Hara — Class of 1984
I remember the Notre Dame Glee Club singing Christmas Carols in the Augusta Hall lobby.
---
Denise Kilway Peterson — Class of 1987
Oh, so hard to say! Being enthralled with Dr. Nekvasil's lectures on Physiology, going to nursing clinical on Friday evening, The Avenue of trees in the fall, being in the ND Marching Band, but one of my favorite memories is Le Mans Hall around Christmas. People would sell their wares and the Christmas Tree was up and it smelled great and it really got me in the mood for Christmas!!
---
Sara Levandusky Reinthaler — Class of 1999
Decorating our rooms for the holidays!