Panty Raids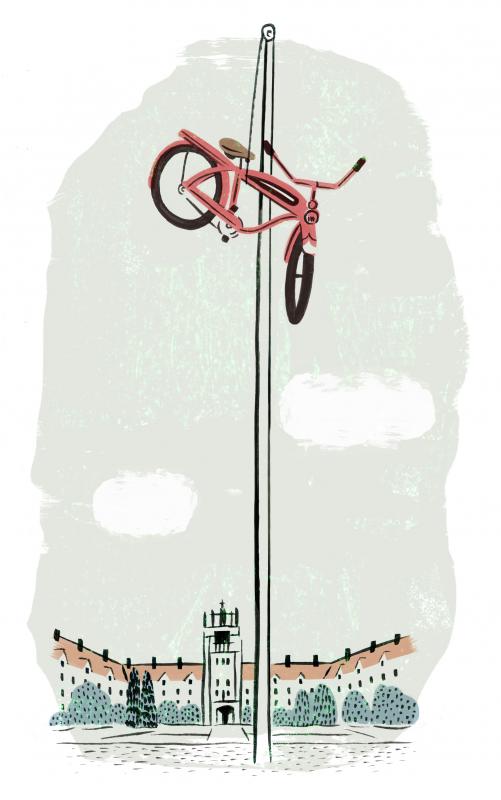 Cherylann Harrington — Class of 1966
"Freshman year in Holy Cross Hall, I was only there five weeks when a low drone was heard outside. My roommate and I had no idea what it was until a Hoky Cross sister came into the room shouting "throw your panties out the window
---
Kathy Wood — Class of 1967
"Funniest" When the boys from ND came 'running' over en masse, we threw an undershirt out our window. It was so funny to watch the reactions and imagine the conversations when they returned to ND. (This was the funniest, but not the most memorable.)
---
Patti Theisen Moye — Class of 1967
Notre Dame boys and the annual spring "Panty Raid" Symbolized by the raising of a bike up the flagpole..South Bend Police pretended to give a hoot by blaring their sirens, as the girls threw underwear out the windows. Sister Immaculately guarded the doors from invasion with a fire extinguisher. Cute.
---
MaryAnne Kearns Christenson — Class of 1969
Are there still pantie raids in the Spring by the ND men?
---
Alice M Tsui — Class of 1970
Freshmen year, our room being on the second floor and right in front at Holy Cross provided the best view for Panty Raid. Seeing all the guys ran up The Avenue near midnight, then standing right under our four big windows, yelling, and girls screaming back, was quite a sight for a newcomer like me. There was actually one guy leading his blind friend with him!! Everyone in our wing crowded into our room, our neighbors Gay Gonring, Kathleen Ryan, Julie Castrop, Marie Mirro, Cecile Naulty, and many others. Some girls actually threw panties down! Somehow after Freshmen year, this tradition never happened again. But that was an experience to last me a lifetime.
---
Karen Preston McCarty — Class of 1970
Our room became a pre-dinner meeting ground for all of our various friends as we had a tv, stereo, and couch and could keep an eye on the dining hall line. I volunteered to make the table toppers for tour Junior Year Christmas dinner and enlisted the help of all of our friends in making Christmas caroler angels. That year the ND guys got into the dorm and were trolling the halls for one of their pantie raids — we pushed a desk up against our door and stood on it to watch the activity through our transom — I especially remember the campus guards trying to chase them down!
---
Judy Johnson Crates — Class of 1970
This is so..... outrageous with a 50 year perspective, but I remember "panty raids" where large groups of ND students came over at night, chanted outside our windows at McCandless and we threw our underwear to them as they screamed for more. My freshman year I remember calling my mother and telling her that I needed all new underwear because I had thrown almost all my things to the boys. OMG! That was 1966. How times have changed....and I both laugh and cringe at the thought of all of that...
---
Gwen Gill Caranchini — Class of 1970
This is terrible to say but the most vivid memory is being a freshman in Holy Cross and having a panty raid by ND boys in my freshman year. I never ever had anything like that happen growing up or heard about these. I can still remember throwing out old bras as well as our "very unsexy white panties" and the boys asking for "more". I kept saying to myself "is this college at SMC?"
---
Gwen Gill Caranchini — Class of 1970
Well you will laugh but hanging out our windows as ND boys came Saturday nite and screamed at us for "something"!
---
Barbara Gauer Kerwin — Class of 1975
Panty raids... LeMans was always the first dorm visited by the ND boys.
---
Mary Sheeran — Class of 1976
Another memorable moment (I can only have one?) was waking up in the middle of the night to hear hundreds of men yelling "We want panties!" I thought, is this the 1950s? I was appalled - women urging them on, no one stopping them, as they broke into the dorm, breaking fire locks and destroying private property. I was glad that, when I had a column in the Observer, to protest that and the response from Notre Dame that "boys will be boys." I know that has all changed for the college, but I remembered it, and it did not serve either Notre Dame for shrugging its shoulders or St. Mary's for not fighting back or calling out the behaviors of those inside the dorm. It was another time. I suppose this is not a fond memory - but I am glad that the college (and ND) have changed for the better on this subject.
---
Susan Brandt Dorst — Class of 1985
Freshman panty raid. I remember the loud roar of boys running from ND to SMC. It was a rush! We all vote to bring that tradition back!
---
Kristen Sullivan Lynch — Class of 1991
So many memories! One I've never forgotten was my Freshman year in Regina, I was in my loft and when I woke up, I realized there was a HUGE spider not that far from my head, but too far for me to kill — and I was terrified! I was able to call my RA — Ann Dimberio — from my bed, and she came down and got rid of it for me! She was my hero that morning! I also thought the panty raid was a fun event — I know it isn't politically correct now, but it was a funny time!