Lisa Maxbauer Price '99
Has Something to Write Home About 

Anticipating their upcoming graduations, Courier interns Kristen Edelen '09 and Jessica Huang '09 caught up with alumna Lisa Maxbauer Price '99 to ask her about life after college. Lisa talked about her journey into the world of magazine publishing and offered advice to the interns on how to achieve career success doing what you love.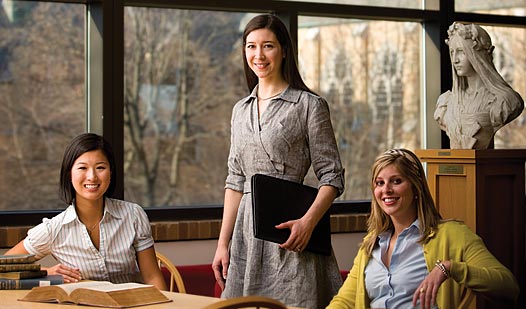 Left to right: Jessica Huang '09, Lisa Maxbauer Price '99, Kristen Edelen '09
Kristen: How did your Saint Mary's education prepare you for your career?
Lisa: I had these wonderful female professors and friends at Saint Mary's, which made for a smooth transition into a similar environment in women's publishing. The W [Advanced Writing Requirement] distinction each student earns really helps. It was very important that I was pushed to cultivate my writing through earning that "W," because those skills can't be overlooked once you get into the real world.
Saint Mary's is wonderful because it puts this big stress on the liberal arts and doing what you love. My career advice is to figure out what you love and find a way to make money doing it.
Also, I think working at The Observer was one of those turning points that set me up nicely for my career.
Kristen: Were there professors at Saint Mary's that encouraged your interest in writing?
Lisa: Dr. Max Westler is a poetry professor, who was very encouraging of my talents and told me one day, "if you ever stop writing, it would be a real shame."
Jessica: What's your best advice for seniors on the job hunt?
Lisa: My best advice is to utilize all the incredible resources of the alumnae. There are alumnae in every city in the country practically, and if they don't have the job you want they might know someone who does.
Since the job market is going to be tough, those connections are really going to be valuable. As soon as I graduated from Saint Mary's, I had 18,000 living alumnae.
Jessica: What would you say is your most memorable Saint Mary's moment?
Lisa: When world famous feminist artist Judy Chicago came to campus, I was so thrilled to hand her a copy of the article I had written about her in The Observer. I later heard from my art history professor that the last thing Chicago said when she left for the airport was that she thought the coverage Saint Mary's gave her in the paper was the best she'd ever seen during any campus she had ever visited.
Kristen: How was the adjustment from college to your first job at Physician's Weekly?
Lisa: …I moved to New York City the Saturday after graduation. I had $1,600 and no job. It's kind of dramatic, but sometimes, you just have to move to the city, pound the pavement, and be there to go on interviews.
Physician's Weekly ended up being a dream job and a wonderful training ground. I was writing cover stories after my first three months. I made contacts and worked big press conferences. The job taught me how the publishing world worked in New York City.
It is hard paying your bills that first year on an entry-level. Manhattan is an expensive place, but it seemed doable and like it was this wonderful adventure. Every year you make more money, so it gets easier.
Kristen: Why is magazine publishing so appealing to you?
Lisa: I love that it's really tangible. I love that people buy magazines because they want to read them the second they get home. It feels real to me, that something I write exists for awhile in the world.
Depending on what life phase you're in, there's always a magazine that is kind of like your companion. Now that I'm a mother, the magazines I really want to read are parenting magazines.
Jessica: How are you balancing motherhood and work?
Lisa: When I told First that my family was relocating to Boston, they were so wonderful. They said essentially, "We'd like to keep you on—full-time, full-salary, you'll just work from home." I have a 2½-year-old son and I really wanted to be around more. This is the second time in my career that I've been a full-time freelancer. Being self-employed means I have a lot more flexibility.
Jessica: What are some of the coolest things you've done as a magazine writer?
Lisa: I did a 2008 cover story on actress Kristen Chenoweth from Pushing Daisies and Wicked. That was one of my first big celebrity interviews. Also, I interviewed Kelly Ripa at a press event and then, she was later featured with First. While at First, I had the opportunity to interview the cast of "Scrubs," "How I Met Your Mother," and "Entourage."
Last year I worked the pressroom for the Dove Awards. It was in Nashville's famous Grand Old Opry, and I interviewed some really great country music stars. It's cool because even if these interviews never become stories, you still have that experience.
Kristen: What memory stands outs for you from the time you spent in New York?
Lisa: Hitting tennis with Billie Jean King at a press event during the U.S. Open. I had this moment of thinking, "Wow, being a journalist really opens doors. You get to do some amazing things." I was from a small town in Northern Michigan and I was working on these amazing stories in New York City, and the one road that connected those two destinations was Saint Mary's.