Courier Online - Spring 2009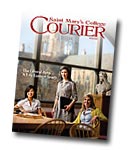 Spring 2009
In an ever-changing economy, liberal arts degrees give alumnae the flexibility they need to follow their career paths and their dreams.
Fiction writing class lets students explore their other lives in novella.
Alumnae literati who got their start at Saint Mary's.
Courier interns ask Lisa Maxbauer Price for real-world advice.
Dr. Mary Anne Luzar '72 takes liberal arts degree to Washington and beyond.
Art Professor Krista Hoefle offers advice on how to bring creativity into your life.