Study is Broad on this Study Abroad Experience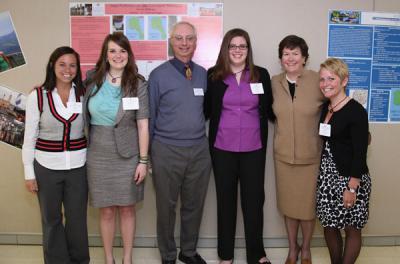 Ashley Cook '11, Chelsea Crane '11, Professor Tom Fogle, Emma Hoffman '11, Mary Burke '85 (Chair of the Board of Trustees), and Megan Weinandy '11 pose together at the "Celebrating the Education of Women in Science" event at the College on March 26, 2011.
In the summer of 2008, two Saint Mary's College biology students were the first to participate in a pilot research program on Little Corn Island, Nicaragua. At the invitation of Mary Burke '85, who owns a resort there, and under the guidance of biology professors, the students conducted research for their senior comprehensives. Things went so well, the program continued and grew to four students each summer. Through the summer of 2011, 14 biology students have spent two months on Little Corn working on senior comprehensive research that includes testing the quality of well water; introducing water purification to the native population; and cataloging the fish species and the condition of the coral reef.
Chelsea Crane '11 and Ashley Cook '11 did underwater research on Little Corn in the summer of 2010. Crane, an avid videographer on land, shot footage on the ocean's floor, capturing compelling shots—like schools of fish darting around the students as they went scuba diving. It has Crane dreaming of a career shooting underwater video for television networks like National Geographic. Meanwhile, Cook's underwater adventures will continue in the summer of 2011 with an internship off the coast of Africa (read more below). Emma Hoffman '11 and Megan Weinandy '11 spent the summer of 2010 introducing simple water filtration systems into homes there, improving the water quality for the island's natives and redirecting the course of their careers as well. They returned there after graduation for another summer of research. All four students say the time spent on Little Corn Island was life altering.
Watch underwater video that Crane shot and interviews with the students in this news clip, which appeared on WSBT-TV. Professor Nancy Nekvasil, chair of the Department of Biology, is also interviewed.
Oops! It seems that you do not have the most current version of the Adobe Flash Player. Please click here to download it.
Chelsea Crane '11
"Little Corn definitely changed my career path. I started out as a biology major planning to apply to medical schools, but ruled that out pretty quickly. I wasn't sure what else to do with the major but I knew I loved traveling and so when the opportunity came to do my senior comprehensive on Little Corn, I jumped on it," Crane recalled.
"The project was a perfect mix of photography and research. It was an adventure and I have Mary Burke and the wonderful professors in the Department of Biology to thank for it. It was because of my experiences on Little Corn that I now have this unparalleled passion for marine biology. I plan on returning to Little Corn to become a certified dive master after which I will hopefully find more research opportunities in a graduate program." 
Ashley Cook '11
"Before going to Little Corn Island, I wasn't sure what I wanted to do after graduating," said Cook. "Last summer, I spent two months scuba diving off the coast of Little Corn conducting fish and coral surveys. From day one, I knew it was a field I would be involved with the rest of my life."
The experience is already paying dividends for Cook. In the summer of 2011, she was completing a summer internship at the Shedd Aquarium in Chicago and in September she was scheduled to travel to South Africa for a two-month internship studying great white sharks with the organization Oceans Research. She plans to obtain a PhD in marine biology and become a researcher and college professor.
Emma Hoffman '11
"For three years I worked toward my application for medical school, but as I was getting ready to leave for Nicaragua last summer I decided to stop my application and see how I felt after my time there," said Hoffman. "While on Little Corn, I implemented a home water filtration system for residents, which is effective at removing bacteria and is a practical option because of its low cost and easy use. From this experience, I realized that environmental health is a growing field and would allow me to participate in field research all over the world." Now she has a new career path, which combines her passions for biology and helping those in need.
She returned to the island in the summer of 2011 to work on more community-based projects while she applying to graduate schools. Her goal is to get a masters of science in global and environmental health or environmental science with a focus on agriculture or water.
Megan Weinandy '11
Weinandy also traveled back to the island for the summer of 2011. She says her positive experience the previous summer only left her wanting to do more good there...and elsewhere. "My experience on Little Corn Island helped me gain a new perspective on what I wanted to do after graduation from Saint Mary's. Before I spent my summer on Little Corn, I was extremely unsure of what I wanted to do," she recalled.
"I was contemplating going into public health, and with my senior comprehensive project which focused on drinking water quality, I realized that I was very passionate about working one-on-one with the people in efforts to improve their drinking water. After my experience, I have realized that I want to go into the area of environmental science or environmental health. My goal is to get into a graduate program that is coupled with the Peace Corps in either one of these fields."
For more information on the Little Corn Island program, contact biology professor Tom Fogle at (574) 284-4675.