A Change of Heart
A Change of Heart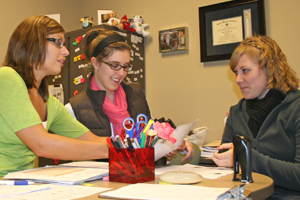 Olivia Barzydlo Critchlow meets with
Maggie LeMay '12 and Alicia Wilkins '11
A change of heart after graduation helped alumna Olivia Barzydlo Critchlow to find her heart—in community service. The '05 graduate and psychology major originally planned to go to law school, but second-guessing led her to take a position as an AmeriCorps intern in the Office for Civic and Social Engagement (OCSE). "I decided that instead of going forth with law school, I should take a bit of time to figure out what I was really drawn to and what I enjoyed doing," explains Critchlow. "It was during that year of service with AmeriCorps that I found my calling—to be working with those in need in the South Bend community." Today Critchlow is the assistant director for the Office for Civic and Social Engagement (OCSE), and the director of the College Academy of Tutoring (CAT) program.
Critchlow is responsible for assisting with all OCSE events and programs, as well as coordinating and overseeing everything related to the CAT program. As the director of the CAT program, Critchlow recruits and trains Saint Mary's student volunteers, manages volunteer placements, and facilitates the partnerships between Saint Mary's and three South bend Title 1 schools, as well as the downtown branch of the St. Joseph County Public Library. "I truly believe that I have the best group of ladies on campus—although I'm sure there are many people here who would say the very same about the students they have," says Critchlow. "The ladies I work with are incredibly dedicated to their work, are extremely passionate, and truly the leaders of tomorrow."
Critchlow herself started out as a leader of tomorrow when she was in the seventh grade, attending Hypatia Day, an event sponsored by Saint Mary's. She visited the campus again on Fall Day during her senior year, and says that she felt as 'at home' at Saint Mary's as she did at her high school. "I wanted a place that would provide opportunities similar to a large school but with the compassion and care of a smaller school," says Critchlow.
While a student at Saint Mary's, Critchlow participated on the Student Judicial Board, the Psychology Club, and the College Democrats. It was OSCE Director Carrie Call who gave her the AmeriCorps opportunity, and Carrie Call the psychology professor who influenced her to become a psychology major. "As a psychology major it was both Carrie and Professor Catherine Pittman who inspired and challenged me to think outside of the norm, and truly become the person that I am today."
That person is encouraging and inspiring other young women to be the leaders of tomorrow. "I feel so blessed to have the opportunity to work with them during one of the most influential times in their lives, and know that some of the work I do with them may further shape who they become tomorrow," says Critchlow.