A Class of Service
A Class of Service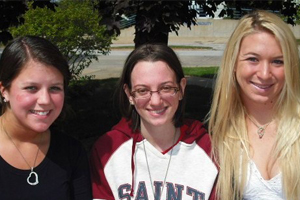 Maureen Parsons, Elizabeth Elsbach, and Cara O'Conner-CombeeThe first-year class is going to fit in just fine at Saint Mary's College. Nearly 80 percent of Saint Mary's students become involved in some form of service before graduating, well over the national average of 55 percent. The first-year students already have it covered. Carrie Call, director of the Office of Civil and Social Engagement (OCSE), says, "I have no doubt the Class of 2013 will broaden and deepen the College's strong commitment to service. Already, much of the work done by them in high school is inspirational -- they have already started to fulfill Saint Mary's mission of making a difference in the world." Cara O'Conner-Combee, Elizabeth Elsbach and Maureen Parsons are just a few of these very inspiring individuals of the Class of 2013.
California native Cara O'Connor-Combee is an intended nursing major who has a passion for helping others. She established Invisible Children in her high school after finding out about the organization online. Its focus is improving the lives of children in northern Uganda. "I decided to do something. I cannot even begin to comprehend the things the families in Uganda go through." Cara and her high school raised more than $12,000 to fund efforts to rebuild the education system in northern Uganda. "I could not imagine living my whole life and not knowing peace. I see there are many problems all over the world and I am beginning to educate myself on the needs in other regions like Northern Korea and Burma." Eventually, Cara is interested in establishing her own non-profit organization.
Elizabeth Elsbach plans on a double major in history and international relations, with a possible minor in German. During her trips with RusticPathways, a volunteer service program designed for high school and college students, Elizabeth left her home in Colorado and worked hands on to help improve living conditions and education in various countries in Southeast Asia. "I've always felt I have a personal responsibility to help those in need. While at Saint Mary's I would like to establish a fundraising organization to help sponsor RusticPathways and their work." Her goal for the future is to become a diplomat and establish peace treaties for oppressed countries.
Back in the states, Maureen Parsons helped raise over $36,000 for the kids at Riley Children's Hospital in her hometown in Indianapolis. For two years Maureen was a member of the Executive Council in her high school's Dance Marathon. "You can see the difference you are making for the kids. The Marathon gives them hope for the future and a chance to believe in themselves." During her time at Saint Mary's Maureen wants to get involved in the College's annual Dance Marathon and volunteer through OCSE.
"Students like these have what it takes to take service at Saint Mary's to the next level," Call says. "Their previous experiences and their shared desire to inform and encourage students and faculty demonstrate the College's mission to 'promote a life of social responsibility while also enlivening the hearts of participants and fostering justice and compassion.'"
—Jessica Robbins '11