Go Blue and White! - Paige J. Amaya-Edmonds
Go Blue and White!
Sophomore Paige J. Amaya-Edmonds divides her time between the lab and the court. When she's not involved in her coursework, Paige proudly sports Saint Mary's blue and white, cheerleading on the sidelines at Belles athletic events.

An intended biology major with a concentration in cellular and molecular biology, Paige is planning a career in genetic counseling. This Belles cheerleader wants to keep encouraging others, not from the sidelines, but in the healthcare field, working with patients who struggle with birth defects or genetic disorders.

As a genetic counselor she'll identify families at risk, investigate any health issues present in the family, interpret information about the disorder, analyze genetic patterns and likelihood of recurrence, and review available options with the family. Genetic counselors also provide counseling to families, act as patient advocates, and refer families to community services for treatment or education.

"I have known for a while that I want to work with genes and cells and I also want to help people. So I sought out a career that combines both my passions," says Paige.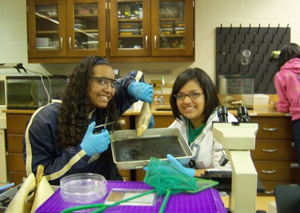 The investigative career path she has chosen suits Paige perfectly. She loves to unravel a good mystery. Her favorite course at Saint Mary's so far was a mathematics course with Professor Joanne Snow. "She is a professor that makes learning fun and interesting. Instead of looking at homework as boring math problems, I was able to turn them into challenging puzzles and that made them exciting," says Paige.

Professor Snow is one among many faculty and staff members who've encouraged Paige in her studies. "I love the sense of community and family on campus," she says. "Everyone really wants to see you succeed and will go to great lengths to help you." Thanks to that support and a lot of hard work, Paige is making her way successfully through a major in biology with concentrations in both cellular and molecular biology and minors in social work and women's studies.

When she's not in the lab, you'll find her on the basketball court, lending support to the Belles basketball team, among others.