Integrative Biology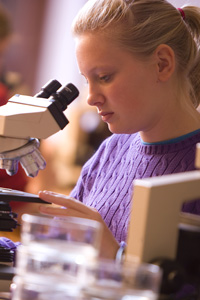 As a biology major at Saint Mary's you will explore current biological principles and the scientific approach to problems. You will also gain practical experience in laboratory and field methods of investigation that will allow you to develop an appreciation for intellectual achievements in science.
Courses are designed to prepare you well for a career in science, graduate study, and/or admission to medical and dental schools. You will also have the option to experience a semester or a year abroad, as foreign study is feasible although it may require some summer classes.
"Our students are enthusiastic and our program is distinctive. As students unlock their potential they also bring out the best in me. The energy that students bring to the classroom and the laboratory is the reason that I remain excited and involved in my discipline." —Tom Fogle, Professor of Biology
Degrees
You will earn a Bachelor of Science (B.S.) degree in general Biology. A Bachelor of Arts (B.A.) in Biology is also available.
Writing in the Major
Go beyond lab and classroom study and demonstrate your writing skills and unique scientific perspective with the advanced writing proficiency requirement. You will submit a scientific paper as part of the senior comprehensive experience based on a directed research project of your choice, including successful completion of BIO 385: Introduction to Research and BIO 485: Research in Biology.
Senior comprehensive
As a senior biology major, you will demonstrate first-hand your scientific intellectual development in a final comprehensive submission. You will complete the course requirements of BIO 385: Introduction to Research and BIO 485: Research in Biology, submission of an approved paper based on a directed research project of your choice, and make an oral presentation to the department regarding your research.
Hands-on Learning
Unlike most colleges, Saint Mary's provides you with opportunities to engage in research projects with faculty members. The chance to carry out independent research with a faculty mentor is not simply a possibility—it's a graduation requirement.
While at Saint Mary's, students have participated in distinguished research conferences across the country, and have held internships in varying fields of scientific study. Julie Malone '07 presented a paper at the Indiana University Undergraduate Research Conference in November 2006, and again at the National Conference on Undergraduate Research (NCUR 21) at Dominican University of California in April 2007. Amy Oliva '06 co-authored a paper based on research conducted at the University of Kentucky as part of a summer research internship.
Hands-on experiences in the Biology program extend far beyond research as well, including a trip to Ecuador organized and led by professor Tom Fogle. BIO 270: Environment of Ecuador is a three-credit, non-lab travel course. The biannual course allows students to experience plant and wildlife in the rainforests of the Galapagos, and 21st-century challenges facing the capital city of Quito. Another summer travel course allows two students to spend eight weeks on Little Corn Island, Nicaragua, where they complete their senior comprehensive projects.
Careers
Your degree in biology from Saint Mary's will prepare you for admission to medical, dental, or veterinary school, as well as graduate programs in other health professions. You will have all the necessary skills to succeed in career fields such as forensic science, genetics, botany, zoo keeping, conservation, and much more.
Biology majors who apply to graduate programs in the health professions are consistently accepted to first-rate schools. Saint Mary's alumnae boast an over 90 percent medical school placement rate, a 100 percent veterinary school placement, and around 90 percent for other programs such as dental school, physical therapy, occupational therapy, podiatry, and pharmacy.
Saint Mary's biology majors who have followed a prescribed curriculum have the ability to be automatically accepted into master's degree programs at two distinguished schools. Saint Mary's has an agreement with the Master of Occupational Therapy degree program at Midwestern University in Downer's Grove, Ill., and an agreement with the Master of Physical Therapy program at Central Michigan University in Mount Pleasant, Mich.