Integrative Concentration - Biology Major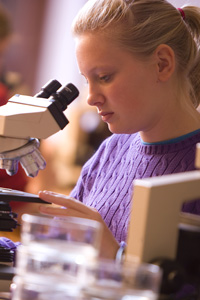 From our cells to our genes to the environment, biology is the study of life. With our liberal arts curriculum, hands-on lab work, and research opportunities, our biology major becomes your life. 
The Experience
Discover the richness and excitement of biology through lab projects, research opportunities, and our 100 hundred acre nature area. Study the biodiversity of four unique habitats in Ecuador during our study abroad program. Earn a Bachelor of Science (BS) degree in biology.
The Requirements
The skills and theories learned in the classroom are put into practicality for your senior comprehensive research project. You'll demonstrate your understanding of current biological principles and the scientific method. Utilize skills learned through field and lab courses.  
The Writing
Go beyond lab and classroom study and demonstrate your writing skills and unique scientific perspective with the advanced writing proficiency requirement. You'll submit a scientific paper as part of the senior comprehensive experience based on a directed research project of your choice.
The Results
Biology alumnae have gone on to be doctors, researchers, dentists, vets, pharmacists, teachers, and lab technicians. Recent biology graduates were accepted into pre-med and other health programs at institutions such as Duke University Medical School, Harvard University School of Medicine, and the Ohio State University School of Veterinary Medicine. And, articulation agreements are available for graduate programs in physical therapy and occupational therapy. 
The Integrative Concentration, Major in Biology, is offered by the
Department of Biology