Broadening Studies, Perspectives
Face to Face: Broadening Studies, Perspectives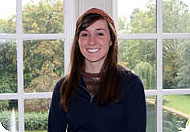 It's been a month since she arrived at Saint Mary's from Omaha, Nebraska, but Caitlin LaVelle '10 says her perspectives are changing. She credits that, in part, to Lives and Times, her first Humanistic Studies course and to Dr. John Shinners, her professor.
LaVelle describes Dr. Shinners as "the kind of teacher who's interested in learning whatever he can." And LaVelle thinks that's important. "I think when you have a teacher who is really intellectual, it inspires you to want to be like that."
"He always makes you realize some deeper meaning in a book," says LaVelle. So far, the class has read Bound Feet & Western Dress: A Memoir, The Road from Coorain, and Kristin Lavransdatter I: The Wreath. (Find a complete list of the course readings below.)
LaVelle says reading Bound Feet & Western Dress changed her perspective on modernity among other things. "At first you want the main character to embrace modernity because you think that her becoming modern will lead to equality, but it doesn't. And our world today is lacking some of the good things about that more traditional world, like how family-oriented they were."

LaVelle says she enjoys the style of the class, which she describes as open and casual. "We sit in a big circle in these big, blue comfy chairs. And he's sitting in the circle with us. We're all teaching and learning." Like all Humanistic Studies classes, their hour and fifteen minutes together is spent in dialogue and debate. "The class goes by super fast," adds LaVelle.
Humanistic Studies is an interdisciplinary program unique to Saint Mary's College. The Program is celebrating its 50th anniversary this year. For LaVelle, the class is distinctly new experience. "We're asked for our interpretation instead of the one right answer."
Since its inception, Humanistic Studies has had a reputation as one of the most intellectually stimulating courses of study at the College. It boasts award-winning students and faculty and many of its graduates are among Saint Mary's most accomplished alumnae.
This semester, the students enrolled in Lives and Times will read:
Bound Feet & Western Dress: A Memoir by Pang-Mei Chang
The Road from Coorain by Jill Ker Conway
Kristin Lavransdatter I: The Wreath by Sigrid Undset
Narrative of the Life of Frederick Douglass, An American Slave: Written by Himself by Frederick Douglass
When the Emperor Was Divine by Julie Otsuka
Planet of the Blind by Stephen Kuusisto
The Namesake by Jhumpa Lahiri