A Splendid Success: Chelsea Young '13 Gained Lifelong Confidence, Curiosity, and Culture in Rome
The poet Lord Byron called Rome "city of the soul." Chelsea Young '13 understands.
"I could write a book about why I love Rome," she said. "The food, the sights, the people, and the history are the obvious answers. But what I value most from my experience abroad is the person it made me. I became more confident, adventurous, and curious. I matured emotionally, intellectually, and spiritually. I was astounded by the progress I made in three months. It was the best experience of my life."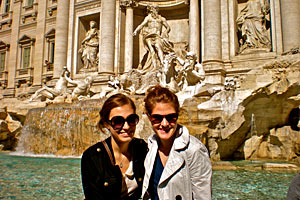 Chelsea Young, left, and Theresa Nucciarone '13 in Rome.
Chelsea isn't alone in her enthusiasm. Ask any Saint Mary's student about her study abroad and she'll talk (and talk and talk) about personal transformation and growth, whether she studied in Ireland, France, India, South Korea, or any of the other 18 locations. The prestigious Rome program is the College's oldest and started in 1970. Students of the program live in a four-star hotel in the heart of old Rome.
For Chelsea, a studio arts major from South Bend, Indiana, Rome was the city of her soul. "From the moment I decided upon going to Saint Mary's, I knew I would be going to Rome," she said. And persuasive forces were at work, too: "My Italian professor, Dr. Peter Checca, would speak so highly of Rome that I felt it would be a tragedy if I didn't go. Dr. Checca would always say in class, 'When you go to Rome,' not 'if.' Not going to Rome was never an option in my mind."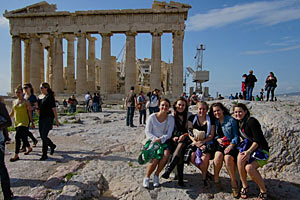 From left: Tayler Aker '13, Chelsea, Anna Vaughn '13,
Lucy Blanco '13, and Heidi Etzel '13 in Athens.
Professor Checca was right. "By the end of the program I felt like an Italian, I knew the city, I knew the culture, and I could speak Italian more confidently," Chelsea said. "I still miss Rome every single day and plan on making my way back there sometime soon!"
In the meantime Chelsea keeps busy on campus. In addition to a job in the admissions office and other activities, she represents her class on the Alumnae Board of Directors. "I interviewed with about 12 members of the Board—it was intense!— and they chose me. I'm really excited about it. The alums are awesome and I look forward to getting to know them and learn from them."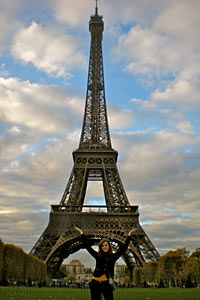 Chelsea visited Paris during her
study abroad in Rome.
As passionate as Chelsea is about Saint Mary's now, she wasn't sold on the College until she set foot on campus. "I could just see myself here rather than all the larger schools I had applied to," she said. "I felt like I was being accepted into one big family."
And Saint Mary's made it affordable for her to attend. "Plain and simple, I would not be here if it were not for the generous gifts of donors and Saint Mary's," she said. "Every year Saint Mary's has taken into account my family's financial situation and has tailored a financial plan to meet our needs."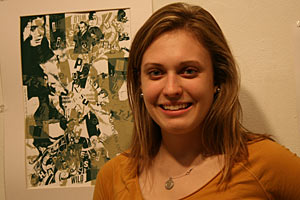 Chelsea with one of her silkscreen art projects.

Her favorite part of the College is her "second family" of friends, coworkers, and professors. "Saint Mary's women are always supporting one another and it's a great environment to do great things," she said. "The drive to excel is contagious, and we're all pushing each other to strive for more. Saint Mary's is where you can achieve things you never knew you could and feel like you could go out into the world upon graduation and do something incredible."
For her own part, Chelsea is planning on attending law school: "With my Saint Mary's background I am entirely confident that I will succeed splendidly."
In Italian that's un successo splendente, a splendid success.