Dreaming of a Green Christmas
Dreaming of a Green Christmas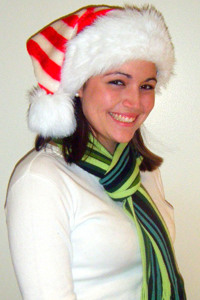 For many Saint Mary's students, Christmas is a time for snowfall, chilly weather and mittens missing their match. For Krystina Harcourt '11, however, Christmas is just the opposite. "My Christmas is filled with sunshine, flip-flops, and warm temperatures around 75-80 degrees," says the Jacksonville, Fla. native. But doesn't the lack of white stuff covering the ground bother her? Not at all.
The English writing and music double major isn't dreaming of a white Christmas. "I'm used to having a 'Green Christmas,'" she asserts. And her family traditions certainly don't leave her room to despair. "My mom always overcompensates for the lack of snow and Christmas-like weather by buying every Christmas decoration in the Northern Hemisphere," Krystina says, smiling. "I think we're up to seven Christmas trees, five Christmas villages, three sets of Christmas dishes, and even Christmas toilet paper." You can bet it's beginning to look a lot like Christmas in the Harcourt household.
"Another tradition my mom and I have every year is our Advent calendar," she explains. Most Advent calendars have an ornament to hang on a tree for each day of Advent, but Krystina's mother put a unique spin on theirs. "Every day, I'd reach into the little pocket with the ornament, and along with the ornament would be some kind of craft or activity we would do. For example, there would be a slip of paper that said to buy a new Christmas movie, or to do a bunch of elaborate Christmas crafts."
A tradition from kindergarten to her senior year of high school, Krystina looked forward to her Advent calendar every year. And even after she was so many miles away during her first year of college, Krystina was able to bring her family tradition to Saint Mary's. "When I went to college my first year, my mom brought crafts and little gifts for my roommate to hide around the room," Krystina says. "I would find them and she and I would do the different crafts and activities together."
Traditions abound for Krystina at Saint Mary's, as well. The junior is extremely involved in many musical extracurricular activities, including Bellacappella and Women's Choir at Saint Mary's, and the Pasquerilla East Musical Company at Notre Dame, just to name a few. Since she has such a busy schedule, it's no wonder Krystina, whose ultimate goal is to perform on Broadway, can't wait to get home for the holidays.
And with all those fabulous traditions, and all that Florida sunshine, Krystina's Christmas is sure to be both merry and bright.
—Mary Elizabeth Ulliman '10