English Writing Major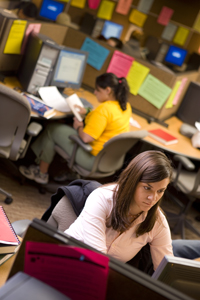 When you major in English writing here, you enter a community of writers. Our faculty, accomplished and knowledgeable in their field, will help you realize your potential, developing your skills and imagination. By the time you graduate, your mastery of the written word will be obvious, both to you and the rest of the world.
The Experience
Small classes keep discussions open and ideas flowing toward critical, theoretical, and historical understanding. Study the classics and the modern, and put it all into practice in a variety of writing genres. We also place emphasis on gaining real experience through internships. 
The Requirements
You'll study all genres of writing, from poetry to prose, to expository to rhetoric. You'll also study famous writers, to evaluate and learn from the greats. Your senior comprehensive project is an ambitious, extended example of your writing in a creative vein. Your project is evaluated by a faculty team and outstanding projects are recommended for Honors in the major.
The Writing
Two professors will read your complete portfolio of writings, concentrating on three sample papers. Your writing will be well organized and focused, logical and coherent, technically correct, and cognizant of the complexities of the issues in the content material. Your final portfolio will contain:
a well-developed analysis of a single literary work
a paper of your choice from any advanced writing course
a substantial excerpt from your senior writing project
The Results
An English degree helps you develop the analytical and communication skills that both employers and advanced-degree professional programs highly prize. According to research by the Modern Language Association, an English major is the best preparation for careers in diverse fields such as: teaching, publishing, editing, service, law, medicine, business, management, journalism, communications, and others.