English Writing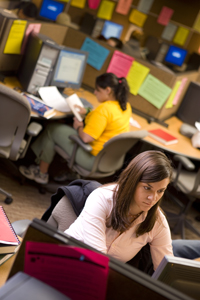 When you major in English Writing at Saint Mary's College, you enter a community of writers. Our faculty, accomplished and knowledgeable in their field, will help you realize your potential, developing your skills and imagination. By the time you graduate, your mastery of the written word will be obvious, both to you and the rest of the world.
"I know that if I ever need advice or feedback on my writing, I can email or call any of my former professors and they will know me and be happy to help. Those are just the type of people at Saint Mary's College—they truly care about you." —Amanda Goetz '08
Writing in the Major
Two professors will read your complete portfolio of writings, concentrating on three sample papers. Your writing should be well organized and focused, logical and coherent, technically correct, and cognizant of the complexities of the issues in the content material. Your Final Portfolio will contain:
a well-developed analysis of a single literary work
a paper of your choice from any advanced writing course
a substantial excerpt from your senior writing project
Senior Comprehensive Examination
Writing majors satisfy the College's Comprehensive requirement in ENWR 495 Senior Writing Project. The project consists of an ambitious, extended example of your writing in a creative vein. Your project is evaluated by a faculty team and outstanding projects are recommended for Honors in the major.
Hands-on Learning
The English program is designed with small classes to keep discussions open and ideas flowing. Class discussion is the preferred route toward critical, theoretical, and historical understanding. Emphasis is also placed on gaining real experience through internships. In addition to giving you an idea of how the workplace operates, internships provide you with a competitive edge when seeking employment.
Careers
An English degree helps you develop the analytical and communication skills that both employers and advanced-degree professional programs highly prize. According to research by the Modern Language Association, an English major is the best preparation for careers in diverse fields such as: teaching, publishing, editing, service, law, medicine, business, management, journalism, communications, and others.