Go the Distance - Elizabeth Majewski '13
Go the Distance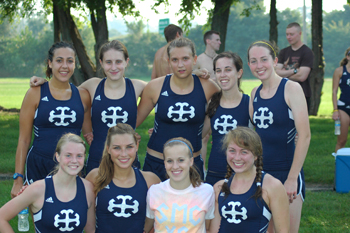 Elizabeth Majewski '13 (back row, second from left)
with her Belles teammates
Sophomore Elizabeth Majewski doesn't let life's challenges get in the way of her dreams. A Belles cross country runner and avid volunteer, Elizabeth's tenacity developed at a very young age. She's a cancer survivor and the Osceola, Ind., native overcame her disease at the age of two.

"Even though I do not remember much of this experience, I believe that it has made me stronger and has given me more opportunities to take part in activities I participated in as a child," says Elizabeth. Those activities include a children's camp for cancer survivors and their siblings, where she served as a counselor this past summer, and Saint Mary's Dance Marathon for Riley Hospital, where she was treated as a child.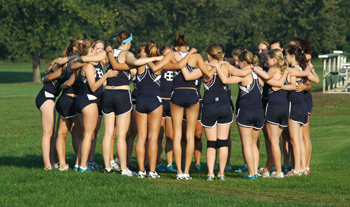 Since then, Elizabeth has cultivated a love of running, service, and a deep faith that guides her decisions. That faith led her to Saint Mary's, where she has put it into action. When she's not busy with coursework or cross country practice, Elizabeth is a busy volunteer. She completed 50 hours of service last semester, serving as a teacher's assistant in a third-grade classroom at Coquillard Primary, a Title I school in South Bend. She's also a member of the student-led Right to Life Club and Circle K Club, a volunteer organization on campus.

Elizabeth's experiences have led her to choose a career that serves children. She's working toward a major in English literature with minors in secondary education, focusing on middle school certification and teaching mathematics.

Her goal is to teach middle school or high school and coach track team of her own. "I will enjoy every day of teaching and a coaching position would help me guide others, to share an interest in something that I love," she says.

Ever passionate—whether she's on a long distance run or helping a ten year-old student conquer his math homework—Elizabeth can't wait to share her dreams with others. She's starting now. "Saint Mary's challenges me to balance running, work, service, and my faith," she says. "I cannot imagine myself at any other college."