English Literature Major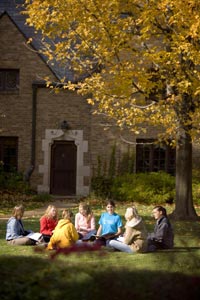 Literature celebrates the diversity of the human imagination and the expressive resources of language. It delves into the most fundamental human concerns: the relationship between individuals and their communities, the complexities of moral choice, the climates of the heart and soul. With a major in English, you gain the ability to read and comprehend diverse material and to express yourself well and persuasively in both the written and spoken word.
The Experience
The English program is designed with small classes to keep discussions open and ideas flowing. Class discussion is the preferred route toward critical, theoretical, and historical understanding. Emphasis is also placed on gaining real experience through internships. In addition to giving you an idea of how the workplace operates, internships provide you with a competitive edge when seeking employment.
The Requirements
Read and discuss literature spanning time periods from medieval to the contemporary moment and exploring Global Anglophone, British, and American traditions. To fulfill our comprehensive requirement, you'll complete the senior literature seminar. 
The Writing
Two teachers read your complete portfolio of writings, concentrating on three sample papers. Your writing will be well organized and focused, logical and coherent, technically correct, and cognizant of the complexities of the issues in the content material.
The Results
An English degree helps you develop the analytical and communication skills that both employers and advanced-degree professional programs want. According to research by the Modern Language Association, an English major is the best preparation for careers in diverse fields: teaching, publishing, editing, service, law, medicine, business, management, journalism, communications, and others.
The English Literature Major is offered by the
Department of English