Going Green - Professor Isabel Larraza
Going Green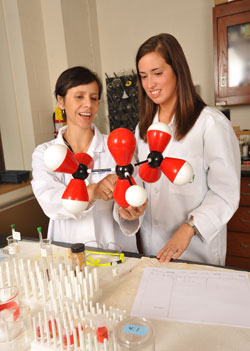 SISTAR partners Isabel Larraza and Kara Joseph '11
Professor Isabel Larraza's goal in her organic chemistry course is for her students to understand the material as it relates to everyday life. "And that they eventually share my feelings for organic chemistry, because it rocks!" she adds.

Larraza, who also teaches general chemistry courses, has impacted many students with her enthusiasm and her real-world application of chemistry. Chemistry major Kara Joseph '11 counts Larraza as one of her mentors on campus. The two teamed up for a Student Independent Study and Research (SISTAR) project last summer, during which Joseph worked as a junior colleague on a project that influenced Larraza's own research.

 Their project, "Hexabromoacetone: A Novel Green Path to Drug Intermediates," focused on  chemical compounds  called "halides," which are used in the synthesis of intermediates and end products in chemical and pharmaceutical industries.

Halides are usually prepared using harsh, raw materials and normally form strong acids or toxic gases as byproducts. "The goal of our project was to arrive at an efficient, greener protocol for the preparation of such halides that would have valuable application in the synthesis of pharmaceutical intermediates," explains Larraza. 

In the end, Joseph's and Larraza's combined research culminated in their testing of a new procedure in the preparation of a drug precursor for Prilosec, an antacid. They presented their research at the March meeting of the American Chemical Society.

"As an educator, I consider undergraduate research in partnership with faculty a vital component of higher education. There is an extensive amount of evidence that shows that engaging in a collaborative research experience promotes effective student learning and, therefore, a first-rate education," says Larraza.

Larraza facilitates collaborative experiences in the classroom too and she enjoys the sharing that goes on between teacher and students. "Even though I've been at this for almost seven years, I am constantly learning from my students," she says. "I can teach a class about acids and bases or discuss the atomic structure many times, but I still hear questions and observations that are unique. I also like getting to know each individual student, a privilege we have at Saint Mary's due to the small size of our classes."

Larraza, who received her PhD in organic chemistry from the National University of Mexico in 1986, has been teaching at Saint Mary's since 2003. Prior to that, she worked at Purdue University in West Lafayette, Ind., as a postdoctoral research associate and for a small biochemical company in South Bend.