Chemistry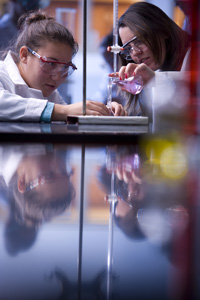 Whether you go straight from college to a career, or on to graduate, medical, dental, or law school, the Saint Mary's chemistry program, recognized with national accreditation from the American Chemical Society (ACS), will open doors for you. Graduating from a nationally accredited program can mean a higher starting salary or improved odds of acceptance to graduate school.
ACS accreditation means that the program meets the same standards as undergraduate programs at major research universities. It recognizes the program's rigorous curriculum, top-notch faculty, and facilities—recognition Saint Mary's shares with programs like the California Institute of Technology, Massachusetts Institute of Technology, and Stanford University.
At Saint Mary's, however, the focus is on you. Small classes will give you hands-on laboratory experience with state-of-the-art chemical instrumentation.
"When I interviewed at graduate programs, the other applicants I met came from larger schools where they'd only ever had big, lecture-style science classes. But at Saint Mary's, most of my advanced chemistry classes had just a few students, so you had to come to class prepared and really know the material. I think that really gives us an edge." —Katie White '07
Writing in the Major
Science is increasingly about collaboration, and your ability to communicate with your colleagues and contemporaries will be vital. The chemistry program will give you a solid understanding of chemical principles and methods chemists use today, and the emphasis on writing will give you the ability to communicate your ideas with authority and precision.
Senior Comprehensive Requirement
As a senior, you will present your research and ideas about an important topic in chemistry today. You will work directly with a faculty member on this project, which consists of a 30-35 minute oral presentation, giving you an opportunity to demonstrate your mastery of the subject. Emphasis is placed on explaining the chemistry of the research and you'll complete an abstract of your presentation prior to making it.
American Chemical Society Certification
Saint Mary's College is an American Chemical Society-approved school in both chemistry and biochemistry. For those students interested in a more intensive chemistry program, an ACS-certified curriculum is available. To secure certification a student must elect additional advanced coursework and lab hours beyond that required in the B.S. degree program. Interested students should contact the department chair for information.
Careers
An undergraduate degree in chemistry prepares you for a broad range of career options. Depending on your specific area of interest, a chemistry major can lead you to graduate studies, research, or teaching. You may also pursue professional work in medicine, pharmacy, or law—or enter an industry that involves work with the environment, forensics, or engineering. The future is yours to explore, and the chemistry faculty at Saint Mary's College will aid you in finding your way. Learn more about our chemistry alumnae.