Chemistry Major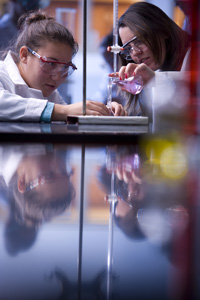 Our chemistry program is recognized with national accreditation from the American Chemical Society (ACS). Graduating from a nationally accredited program can mean a higher starting salary or improved odds of acceptance to graduate school.
ACS accreditation means that the program meets the same standards as undergraduate programs at major research universities. It recognizes the program's rigorous curriculum, top-notch faculty, and facilities—recognition Saint Mary's shares with programs like the California Institute of Technology, Massachusetts Institute of Technology, and Stanford University.
The Experience
Here at Saint Mary's, though, the focus is on you. Small classes give you hands-on laboratory experience with state-of-the-art chemical instrumentation. Our ACS-certified curriculum is available, by taking additional advanced coursework and lab hours beyond that required in the BS degree program.
The Requirements
As a senior, you conduct research on an important topic in chemistry today, collaborating closely with a faculty member. You present your findings to the chemistry department to demonstrate your mastery of the subject. Alumnae have praised the senior comprehensive project for preparing them for successful careers, professional schools, and graduate programs. 
The Writing
As part of your senior comprehensive project and the advance writing proficiency requirements, you'll submit four pieces of scientific writing, including a committee approved paper. The papers are based on a directed research project of your choice. Here is your opportunity to showcase your writing, your unique scientific perspective, and your communication skills. 
The Results
Your chemistry degree opens doors to graduate studies, research, or teaching. You can pursue professional work in medicine, pharmacy, or law—or enter an industry that involves work with the environment, forensics, or engineering.