In Golf and Life - Natalie Matuszak '12
In Golf and Life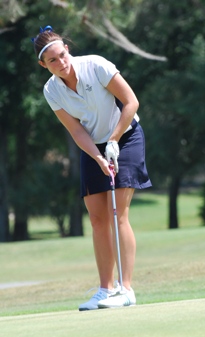 Natalie Matuszak '12 has been playing golf since she was little. Now a member of the Belles varsity golf team, she says the sport has taught her much more than driving and putting. "Golf has taught me many things, but probably most importantly that in golf, like in life, you have good days and bad days. When you have a bad day, you have to forget about it and remember that tomorrow will be a completely different story," she says.
Most recently, Natalie's story merged with that of a famous animated mouse. She completed a fall internship at Disney World in Orlando, Fla. Through the Disney College Program, the Traverse City, Mich., native worked in merchandising learning about how Disney markets its products. She also spent time with affiliate companies ESPN and Pixar.
The experience was a perfect fit for Natalie, a mass communications major. She got to test out a possible career path in her field of study in a very hands-on way. It was the kind of opportunity that Natalie says is part of the Saint Mary's experience. "The greatest part about being a Saint Mary's student is that we are learning skills that will prepare us to become successful women in the future, no matter what career we choose." 
Optimism and gratitude are intrinsic to Natalie's personality. She is appreciative of her college experiences so far, and not just the internship with Disney. They include the European summer study program, with visits to Paris, London, Edinburgh, and Dublin, as well as trips to two national golf tournaments, and a film criticism class where she fell in love with historic Hollywood.
The golf tournaments were especially meaningful for Natalie. "Had I gone to a Division I school, I most likely would not being playing in every tournament, let alone at nationals," she says. By playing golf at Saint Mary's at the Division III level, Natalie has had the chance to play in every tournament every season, as well as competing at the national level.
Natalie cherishes being a part of the golf team's success and says it's due to more than just hard work. "I love hanging out with my teammates outside of practice or traveling because we are all great friends. When you have a good relationship among your teammates, your team will most likely be successful."